In our youth-obsessed culture that sees women aged over 50 zapped from television screens faster than you can say "sexism", the fairer sex are going to extreme lengths in search of youthful beauty.
Standard anti-ageing creams are being pushed to the back of the vanity case to make way for... wait for it... placenta face masks. What, you thought it was just for babies?
According to a recent study by MyVoucherCodes.co.uk, 45% of women would try a placenta face mask if money were no object.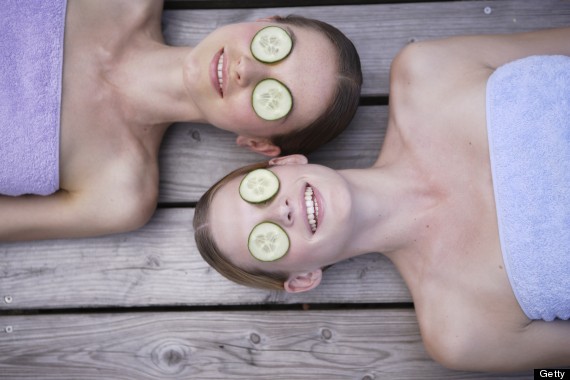 Placenta face masks are all the rage, apparently
The nutritional benefits of eating placenta -- or placentophagy if you're feeling fancy -- has been well documented and is common in many cultures.
But putting placenta on your face is a whole different ball game. And HuffPost UK Lifestyle aren't sure that we want to play.
See Also: In Search Of Hair With More Volume? Why Not Try Placenta Shampoo?
The treatment, which has only recently become available in the UK and is said to be popular among a handful of celebrities, uses stem cells harvested from sheep's placenta.
The stem cells are alleged to reduce the signs of ageing by boosting the production of collagen, glycoproteins and elastic fibres.
"Stem cells are extremely hot news at the moment," said Dr Preema Vig, medical director of Beyond MediSpa at Harvey Nichols, who have recently started offering a 75-minute placenta facial.
"With medical experts and cosmetologists exploring the many uses for these amazing cells, from giving hope to patients suffering from paralysis to those looking to harness the unique qualities of stem cells to turn back the signs of ageing."
LIKE HUFFPOST UK LIFESTYLE ON FACEBOOK | FOLLOW US ON TWITTER
The MyVoucherCodes.co.uk study, which polled 2,173 British women aged 30 and above, found that 91% were concerned about how ageing would affect their looks.
It also exposed the lengths to which women are willing to go to stay looking young -- which made us feel a little depressed to be honest. Here are a few other bizarre treatments women would try:
Placenta face masks - 45%
Bee venom - 41%
Vampire face masks - 39%
Leeches - 38%
Sperm facial- 30%
Bird poo facial – 25%
Cryotherapy treatment – 21%
Cactus massage – 19%
Urine therapy – 15%
Solid gold facial – 14%