An Australian artist has tied the knot – with a 600-year-old bridge in southern France.
Yes, you read that correctly. Jodi Rose and Le Pont du Diable are bridge and wife after an intimate ceremony on 17 June, Oddity Central revealed.
Rose, who has been recording the vibrations of bridge cables as part of a music project for the last decade, somehow knew Le Pont du Diable – or 'Devil's Bridge' - which straddles the river Tech in Céret, was the one for her.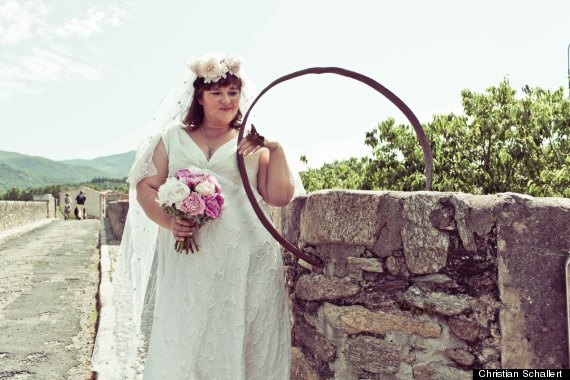 With this ring: Jodi Rose and her new 'husband', Le Pont du Diable
Writing on her blog Bridgeland, she revealed: "As he felt my vibrations coming nearer he drew me to him.
"Although he is made of stone, the resonance of his being is very present, and I feel at peace in his strong embrace. He makes me feel connected to the earth and draws me to rest from my endless nomadic wanderings."
A dozen people attended the nuptials, including the mayor of nearby Arles-sur Tech, who signed the marriage certificate.
Though their marriage will not be legally recognised in France (boo! Spoilsports!), the union is just as strong as any other marriage, Rose insists, though it will be an open relationship.
She explained: "While I respect those whose romantic and sexual feelings are oriented towards objects, mine is a symbolic affair, a pagan/ animist view of the spiritual vibration in everything.
"He understands that I love other bridges – and men – ours is a love that embraces the vagaries of life, as materialised in the swirling currents of the river that flows beneath his magnificent body,"
For her big day Rose wore a white dress, carried a bouquet and even fashioned a ring for her new beau – though admittedly, as Geekosystem points out it does look rather like a brass hula hoop.