Andy Murray's leading ladies were kept on the edge of their seats as he earned himself a place in the history books on Sunday.
Murray has a loyal circle of supporters but it was his mother and long-time girlfriend Kim Sears who were the first to celebrate when the Scot achieved his Wimbledon dream.
Miss Sears, 25, cut a tense figure throughout the match, watching intently as her boyfriend took on the world number one.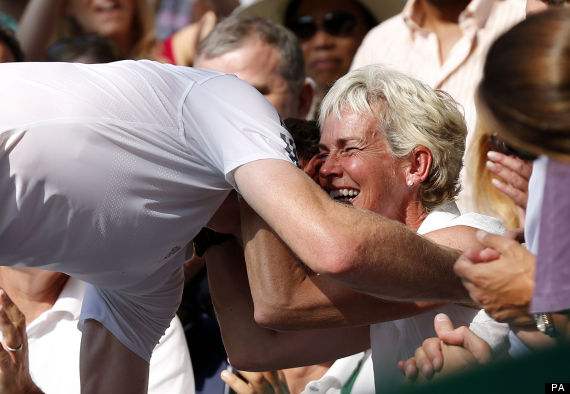 Murry hugs his mother (after nearly forgetting her)
The artist, who shares a home with her boyfriend in Surrey, could be seen rising to her feet as he took games, and at other times cheering him on or leaping into the air as he won vital points.
Miss Sears, described by Murray's mother as "the best thing to happen to Andy", placed her hands on her head in astonishment after he took the title that has eluded him for so long.
Story continues after slideshow...
As he arrived in the player's box, she threw her arms around her boyfriend in sheer joy, the nervous look finally wiped from her face.
Judy Murray, once a professional player herself, wept freely as Murray snatched victory from his Serbian opponent.
The proud mother said she was an "emotional wreck" following his win but added: "I feel very proud of him."
"That has just got to be the best feeling ever, to watch your son win Wimbledon," she said.
Mrs Murray, who is one of the country's top coaches and captain of the Fed Cup team, is a regular fixture courtside.
She appeared anxious today as her son first took to the famous Centre Court lawn.
But she rose to her feet as her son prevailed against Djokovic, mirroring his regular fist-pump with one of her own when he took points.
The 53-year-old who taught both the British number one and his brother Jamie as juniors, said she was "shaking" for the duration of the three hour and 10 minute game.
But she said she had a "good feeling" about her son's chances ahead of the match.
"This is the thing he has talked about winning since he was a little boy playing tennis and of course it was a dream that has suddenly become a reality for him," she said.
Murray leapt into the player's box to embrace his "great team" following his win.
He threw his arms around Miss Sears in evident delight but then turned away, apparently forgetting his mother.
Moments later he retraced his steps and embraced her.
"I did forget her, I just heard squealing behind me when I was trying to get down and I turned back," he confessed, raising a laugh among those on Centre Court.
One woman in Murray's life who was missing from today's historic win was his grandmother Shirley - Mrs Murray's mother - who is recovering from a broken hip.
She and Murray's grandfather Roy had to miss the tournament for the first time, Mrs Murray told the Daily Telegraph, but said they would have been willing their grandson on.
"There's nothing like having family there for support, and like Andy, I wear my heart on my sleeve, so I'm there cheering loudly," she said.