 AP
Ed Miliband said he wanted to "mend...not end" Labour's relationship with the trade unions as he promised further party reforms to prevent a repeat of a highly-damaging row over candidate selection.
The Labour leader, who is engaged in a bitter dispute with the leader of the party's biggest union donor over claims it sought to rig a ballot, said he wanted to increase the involvement of individual members.
But he dismissed suggestions he was looking at ending the historic formal ties with the unions.
Unite general secretary Len McCluskey showed no signs of calming the row, urging Mr Miliband to "step back from the brink of a ruinous division" and stop "playing into the hands" of the Tories.
Mr McCluskey again rejected any suggestions of criminal wrongdoing by Unite after the party called in the police to investigate alleged irregularities in the Falkirk selection
The case centres on alleged attempts to stuff the Falkirk party with Unite members to ensure the success of its favoured candidate - some apparently signed up for Labour membership without their knowledge.
Mr McCluskey said he would not apologise for efforts to "reclaim Labour" which was "increasingly the preserve of an
out-of-touch elite - Oxbridge-educated special advisers who glide from university to think-tank to the green benches without ever sniffing the air of the real world".
Writing in The Observer, Mr Miliband said events in Falkirk "have betrayed the values of our party" and confirmed the public's worst suspicions that politicians were "in it for themselves".
Reforms to be announced soon would ensure future selections "are always fair, open and transparent", he said, making sure the Falkirk episode "never happens again" and making Labour "more worthy of your trust".
Despite claims of similar attempts to influence selections in other seats, he insisted Falkirk was "unrepresentative of what is happening in Labour parties across the country" and that he had already been able to secure "candidates from a broader range of backgrounds".
But there were "bigger lessons for our party, and for our country, to learn", he conceded.
News that Mr Miliband was poised to make a speech addressing those issues had sparked suggestions he would announce major changes to the party's relationship with the unions which helped set it up in 1900.
"Some people will ask whether these changes mean we should break the link with the trade unions," Mr Miliband wrote - citing perceptions that they were increasingly irrelevant, unrepresentative and a "problem" for Labour.
"But the presence of ordinary working people - from shopworkers to nurses, engineers to scientists, construction workers to classroom assistants - in a political party should be its biggest asset.
"To cut these individuals loose would be to make politics more out of touch, not less, more remote from working
people.
"What people in both the party and the trade unions understand is that far too few of these working people are actively engaged in our party at the local level as individuals. So we should mend the relationship, not end it."
The row has plunged Mr Miliband into the most testing challenge of his leadership - with the Conservatives exploiting it to press home claims that he is too "weak" to stand up to the party's significant financial backers.
In a sign of the depth of the breakdown in relations, the two men - who penned separate articles in Sunday newspapers - are said not to have spoken directly since the beginning of June.
Mr Miliband defended the referral to the police and the suspension of two people including Unite's preferred candidate in Falkirk, demanding Unite "accept the results of the inquiry that has taken place and take responsibility for getting its own house in order".
But Mr McCluskey said Mr Miliband's response was a "shambles".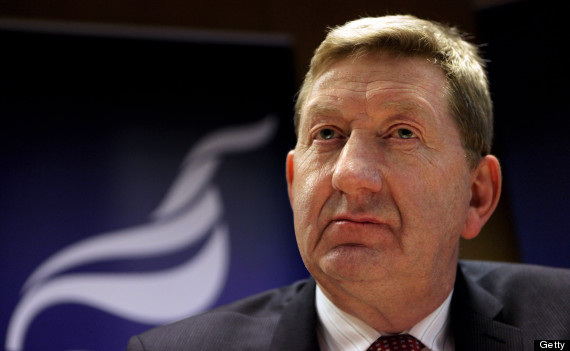 Unite's Len McCluskey thinks Miliband is playing into the Tories' hands
"Labour's attack on Unite is alienating tens of thousands of decent people from the party at a time when we should all be pulling together to take on this rotten government and its policies causing so much misery," he wrote in the Sunday Mirror.
"So I urge Ed Miliband: step back from the brink of a ruinous division.
"Don't led Blairite diehards like Lord Mandelson be your back-seat drivers...and don't let the Tories set our agenda.
"They are wrecking Britain. Their only hope is to wreck Labour too. This week the party's leaders have played into their hands. It is time to reunite."
Mr McCluskey said the heart of the dispute was that working people were no longer allowed "a fair crack of the whip" in Labour - telling readers their children had "more chance cleaning in the Commons" than being elected to it by the party.
Unite was happy to co-operate with any police probe but "reject the idea that any criminal wrongdoing has occurred", he said, dismissing the internal review - which has not been made public - as a "shoddy fraud".
"The party that wants to make Britain a fairer place should start by putting its own house in order," he wrote.
The Tories called on Labour to reveal the extent of union efforts to recruit large numbers of their supporters to local parties in a bid to ensure the selection of their preferred candidates for the 2015 general election.
Responding to a report in the Observer that senior party sources say there is evidence of similar practices in other constituencies, Conservative Party chairman Grant Shapps said: "Labour are now admitting that union candidate selection rigging goes beyond one isolated case - blowing apart Ed Miliband's claim that it doesn't. The public will want to know just how deep this goes.
"And while Ed Miliband has been struggling to gain control of a Labour Party that's busy tearing itself apart, Conservatives have voted to give the public a say on our future in Europe, stood up for hardworking people with new plans to fix the welfare system and continued taking the difficult decisions needed to turn Britain around."
In the wake of the Falkirk case, Labour axed a scheme that allowed unions to pay the fees of newly-recruited party members for an initial period, conceding that it was open to abuse.
A code of conduct for would-be candidates and seeking selection and restrictions on the sums allowed to be spent on selection campaigns are reported to be among other measures to be announced.