Luis Suárez says he is flattered by Arsenal's interest and remains determined to leave Anfield.
Arsenal had a £30 million bid rejected for Suárez at the weekend for a player the Reds bought for £22m in 2011.
Suárez, 26, confirmed in May he wanted a transfer out of England, saying he "didn't feel comfortable" in the country anymore.
The controversial Uruguayan cited the negative media attention he has received, yet just a day after his agent held talks with Liverpool, Suárez has welcomed Arsenal's enquiry.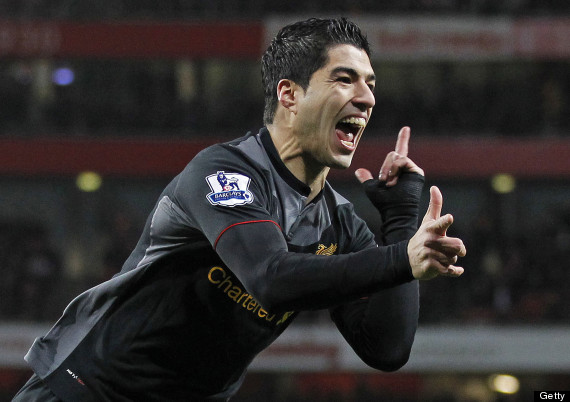 Suárez celebrates scoring against Arsenal in January
"There have been no offers yet, but Liverpool know exactly what is going on and what I want," Suarez told Uruguayan radio station Sport 890.
"My agent is in charge, he knows what I want, I am resting and relaxed. I am due back in about ten days, on the 21 July, [but] a phone call could change everything.
"It is good to know that I am still valued by teams like Arsenal. Friends call me up to ask if I am moving to Chelsea, to which I laugh."
Suárez scored 30 goals for Liverpool last season but his brilliant campaign was overshadowed by moments of notoriety.
He has totted up 19 games worth of suspensions in his time at Anfield without receiving a red card and in April was suspended for 10 matches after he bit Chelsea defender Branislav Ivanović during Liverpool's 2-2 draw.
Suárez was also accused of diving during a goalless draw against Stoke and later admitted to cheating in a bid to win the game.
The striker was fortunate to escape a European ban after he stamped on a Zenit St Petersburg player in a Europa League tie and on international duty he appeared to punch Chile's Gonzalo Jara while the pair waited for a corner.
Suárez signed a new contract with the Reds last summer in what managing director Ian Ayre hailed as "our most important signing" on the Being: Liverpool documentary.