 CEN
A German performance artist has caused considerable controversy by simulating oral sex on a Hitler-worshipping, swastika-wearing ET sex doll while wearing a mask emblazoned with the Iron Cross.
The bizarre drama started only a little tamer as Jonathan Meese burst onto stage using a skipping rope made of sausages while making Nazi salutes and shouting "dictatorship of art!".
Just to ensure the completely shocked audience - many of whom walked out - felt totally unsettled he then called them "human flesh clones" and "slaves to democracy".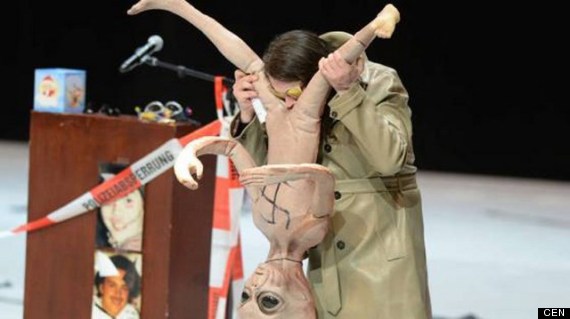 Billy Elliot it ain't
After the epically long 165-minute show had ended most onlookers had left.
In a superb example of understatement one critic said: "He didn't get the audience on his side."
Meese's performance at the Nationaltheater Mannheim is likely to fall foul of Germany's strict anti-Nazi laws as an earlier show had already resulted in the threat of a £1000 fine if the behaviour continued.