A bed and breakfast owner has lost her appeal against a ruling that she unlawfully discriminated against a gay couple when she refused to let them stay in a double room.
Committed Christian Susanne Wilkinson declined to let Michael Black, 64, and partner John Morgan, 59, have the room at the Swiss Bed and Breakfast in Cookham, Berkshire, in March 2010.
A judge at Reading County Court heard that the pair, from Brampton, near Huntingdon, Cambridgeshire, who had made a reservation and paid a deposit, protested at their treatment but Mrs Wilkinson made it clear that it was against her religious convictions to allow two men to share a bed.
Mrs Wilkinson said she was disappointed but "pleased that there is hope for people like me who believe in marriage."
"Surely in our diverse 21st century UK society there is ample room for a variety of lifestyles with many thousands of other B&Bs being willing to accommodate unmarried couples," she said in a statement.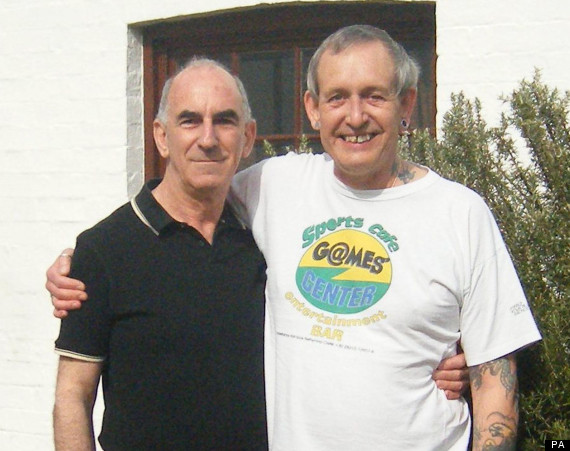 Michael Black and John Morgan were denied a room at the b&b
"It's sad that cases like this are coming to court in a country that has a great Christian heritage. However, whatever the outcome of my case, my faith is grounded in a sovereign, loving and unchanging God and his eternal plans and purposes."
James Welch, legal director of rights campaign group Liberty, said the ruling should "mark the end of out-of-date 'no gays' policies which are as intolerable as those referring to a person's race, gender or religion.
"Of course Liberty fiercely protects people's right to hold and express their religious beliefs. But refusing to accommodate customers simply because they're gay is unacceptable and our clients should never have faced such discrimination."
On Tuesday, Master of the Rolls Lord Dyson, Lady Justice Arden and Lord Justice McCombe, in the Court of Appeal in London, dismissed Mrs Wilkinson's challenge, but gave her permission to appeal to the Supreme Court.
The appeal, on October 9, will be heard at the same time as that of Peter and Hazelmary Bull, who refused to let Martyn Hall and Steven Preddy share a bedroom at their seaside guesthouse in Cornwall.
Lord Dyson said Mrs Wilkinson's policy, so far as practicable, was to restrict the use of her double rooms to married heterosexual couples.
She never allowed couples of the same sex to share a double room and never knowingly allowed an unmarried heterosexual couple to do so either.
In her evidence, Mrs Wilkinson, who was not in court today, said she tried to live her life and carry out her work in accordance with her deeply held beliefs.
The business, which had been operating since 2007, provided a special degree of care and attention to guests, who were invited into her home and treated as members of the family.
The mother-of-four said: "Because I am a Christian, I believe that monogamous heterosexual marriage is the form of partnership uniquely intended for sexual relations between persons and that homosexual relations - as opposed to homosexual orientation - and heterosexual relations outside marriage are wrong."
She said she had turned away several unmarried heterosexual couples from the outset where it was obvious that they were unmarried from the fact that they only wanted to use the room during the day for sex.
She had also made it very clear to members of her own family and friends that she would not allow them to share a double room with their partner if they were not married.
When she met Mr Black, an exams consultant and writer, and computer consultant Mr Morgan, she refunded their deposit and they left. She would have been content to let them take separate rooms and would have done so if any had been available.
Lord Dyson concluded that the decision in the Preddy case, where the court decided there was direct discrimination on the ground of sexual orientation, compelled the conclusion that, by her policy of only offering double rooms to married couples, Mrs Wilkinson directly discriminated against homosexual couples on the ground of their sexual orientation.
She also indirectly discriminated against homosexual couples on the grounds of their sexual orientation by applying a policy which put them at a disadvantage as compared with heterosexual couples and she could not reasonably justify by reference to matters other than their sexual orientation.
Her appeal was funded by the Christian Institute, a national charity which defends the civil liberty of Christians, whose spokesman, Mike Judge, said: "Balance is the key word. There should be more even-handedness for Christians who hold traditional views about marriage."