Mark Cavendish was at the centre of controversy at the Tour de France as he was accused of causing a crash 100 metres from the finish line of stage 10 in Saint-Malo before clashing with reporters.
Cavendish collided with stage winner Marcel Kittel's lead-out man Tom Veelers, appearing to give him a little nudge to send him tumbling to the ground, and the Dutchman called for Cavendish to be disqualified after the race.
Although organisers took no immediate action, verifying his third place behind Kittel and Andre Greipel, the debate raged after the race and a ruffled Cavendish walked off with a reporter's tape recorder as he was questioned about the incident.
It had been a relatively straightforward 197km stage along the flat roads from Saint-Gildas-Des-Bois until the final sprint to the line.
With little support from his team, Cavendish was left fighting for position and collided with Veelers as they raced along at speeds above 40mph.
Although Cavendish stayed upright while Veelers fell, his rhythm was gone and he freewheeled over the line shaking his head behind the leading pair.
"The road was bearing left," Cavendish said.
"I know you're trying to get all the 'Mark Cavendish is a really bad sprinter' stuff again but with 150 metres to go the road bears left. All I do is follow the road."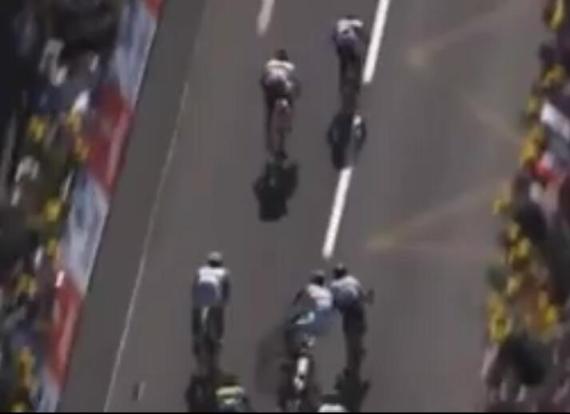 Cavendish was involved in a clash with Tom Veelers in the final 150m of stage 10
Cavendish suggested the organisers were asking for trouble by finishing the stage on a slight bend.
"I've been told the commissars would have relegated me if I'd won, but make it a straight sprint," he added. "The road veers left."
Can all sprint experts on twitter go & try flicking their bike right at 65kph without leaning your body left to balance & come back to me.

— Mark Cavendish (@MarkCavendish) July 9, 2013
Cavendish's mood soured as the questions continued.
Asked if the crash was his fault, Cavendish snapped, saying: "Was what my fault?" before snatching a tape recorder from a reporter and putting it on his team bus.
Having abruptly ended the questioning, Cavendish used Twitter to give his side of the story.
"Whatever has happened, if I'm at fault, I'm sorry," he wrote.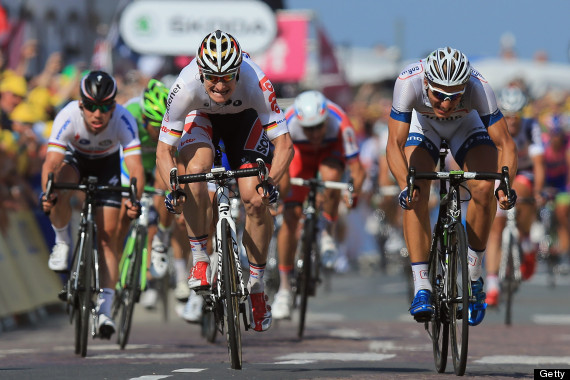 Cavendish (far left) finished in third place
"There's no way I'd move on a rider deliberately, especially one not contesting a sprint. I hope @tom_veelers is ok."
Moments later, he tweeted again: "Just seen the sprint. I believe I didn't move line. I'm actually coming past Veelers & we touch elbows when he moves. Anyway, hope he's ok."
However, Veelers was far from happy about the incident.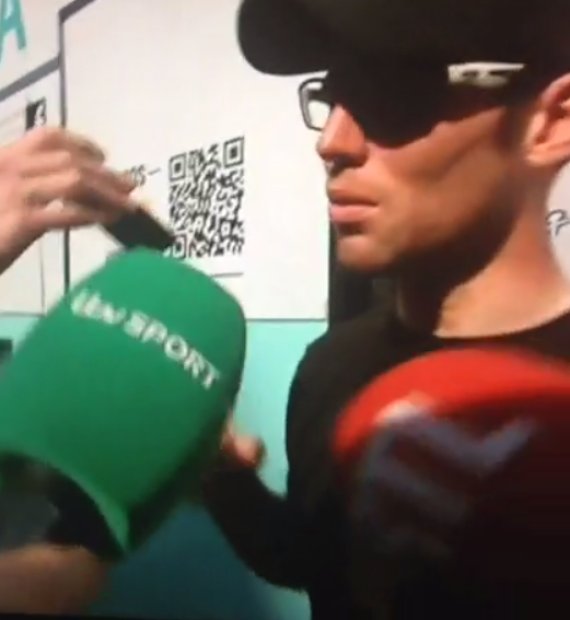 Cavendish grabs a reporter's dictaphone
"I did my lead out for Marcel, and as I did my job, I went out of the way," the Argos-Shimano rider said.
"And it was Cavendish who took me off my bike. When I see the video it's very clear it's his fault, he has to be DQ'd.
"The sprint was strange, it's unbelievable that something like that happens. I want excuses at least. I'm a little finished with Cavendish."
Whatever Mark Cavendish says to race jury, the video evidence isn't going to be much help to him.

— David Walsh (@DavidWalshST) July 9, 2013
This is just the latest incident in a frustrating Tour for Cavendish.
Although he won stage five in Marseille, his hopes of wearing the yellow jersey on the opening day were ended by the chaos caused when Orica GreenEdge's team bus struck the finish line gantry, while he also crashed on stage six to Montpellier and was beaten in the sprint finish.
That means the wait goes on for a 25th career Tour stage win, which would see him move level with Andre Leducq for third all-time.