Three schoolgirls who have been excluded from class after they shaved their heads for charity say they were branded "pathetic" by one teacher.
Kiera Thomas, Gemma Wright and Macey Daden had the breast cancer ribbon shaved onto the side of their heads to raise money for Cancer Research UK after both Keira and Gemma lost family members to the disease. Despite some of the teachers at St Leonards Academy in Sussex donating to the cause, they have since been removed from class. The girls, who raised £800, were told by their head of year: "It's a pathetic way to raise money", according to the BBC.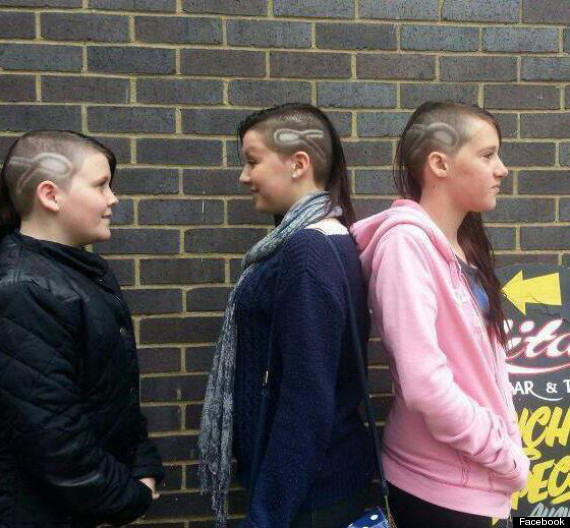 Kiera Thomas, Gemma Wright and Macey Daden show off their shaved heads
Kiera's mother, Susan, told the Mail: "She was put into isolation from the rest of her class and told she couldn't go into any class until her hair was covered. She came home in tears."
SEE ALSO:
'You Are My Hero' Rihanna Tells Student After School Excludes Her For Red Hair

Essex School Bans Students From Having Elvis, Joey Essex-Style Haircuts
One of the girls' parents has now set up a Facebook page, which already has more than 1,100 likes, petitioning the school not to force the girls to cover their heads. On alumnus of the school writes: "I used to go to St Leonards Academy 2 Years ago. You should be proud of yourselves girls! Stick up for what you believe in and don't let them tell you anything different!"
Jenny Jones, principal of the school in St Leonards on Sea, Sussex, said: "While we applaud these girls for their efforts for charity, we have rules regarding dress and appearance which apply to all our students."
You can donate to the girls' JustGiving page here.