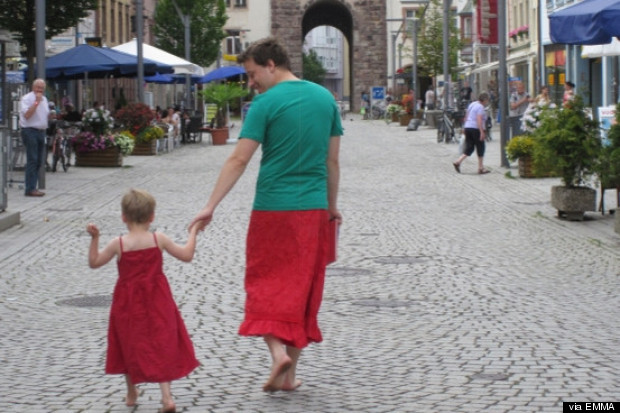 Nils Pickert's 5-year-old son loves wearing dresses.

Sadly there is a distinct lack of dress-wearing male role models in the local area so Nils decided to fill that gap by donning a skirt himself. And thus MyDaily has a new favourite person ever.

"I had only one option left," Nils said to the German feminist magazine, EMMA. "To broaden my shoulders for my little buddy and dress in a skirt myself."

Nils explained that living in a very traditional and very religious South German town, his son's wardrobe choices had left him isolated by his peers.

"I forgot to notify the nursery-school teachers to have an eye on my boy not being laughed at because of his fondness of dresses and skirts. Shortly after moving he didn't dare to go to nursery-school wearing a skirt or a dress any more."

BUT has the strategy worked?

According to Nils, "when other boys (and it's nearly always boys) want to make fun of him [he] says: "You only don't dare to wear skirts and dresses because your dads don't dare to either."

Nils Pickert, we salute you.

You can read blogger Steegeschnoeber's translation of the full story here (warning: the magenta and green colour palette might make that a little hard).

Aaaaand because we love dresses too, here are some of our favourites!