Pep guardiola has confirmed his desire to bring Manchester United target Thiago Alcântara to Bayern Munich.
The Barcelona midfielder, who scored a hat-trick in the Under-21 European Championship final, has been scouted by United for over two years and his contract's buy-out clause currently stands at €17 million.
However the 22-year-old, who was nurtured by Guardiola at Camp Nou, could reject a Premier League move in favour of being reunited with his former coach in Bavaria.
"I want Thiago Alcântara. I have asked but I don't know what will happen," Guardiola said at his Thursday press conference.
"I know him very well. I talked to chief executive (Karl-Heinz) Rummenigge and director (Matthias) Sammer about him, we will wait and then see."
European champions and treble winners Bayern boast an outstanding quartet of midfielders in Bastian Schweinsteiger, Javi Martínez, Toni Kroos and Luiz Gustavo. United, meanwhile, have not signed a central midfielder since Owen Hargreaves in 2007, with Michael Carrick their only consistent performer in the area.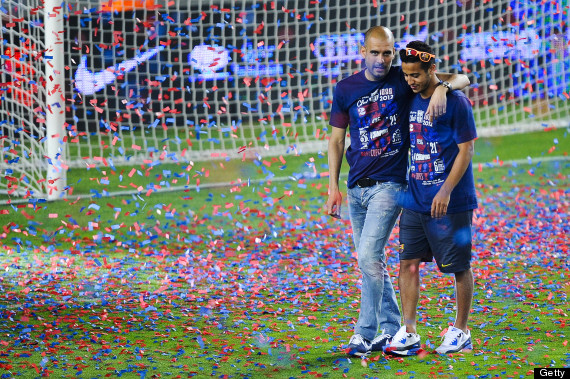 Thiago rose to prominence under Guardiola
However Guardiola insisted the competition would not be an issue for Thiago.
"I don't think (adding another midfielder) will be a problem," Guardiola added. "I spoke to the club about my concept and told them why I want Thiago.
"Thiago is the only player I want, that's what I told them. It will be him or no one. We have many players but we the need the special (quality) that Thiago brings.
"Hi, Thiago, it's Davey M here. Now I know Pep has..."

*line goes dead*

— James Dall (@JamesDallESPN) July 11, 2013
"The club will decide. I told them my opinion."
Guardiola's brother, Pere, is also Thiago's agent.