In our new 'My Life' section, HuffPost UK Lifestyle asks successful women to step off their pedestals for a few minutes, and tell us what makes them tick.
Having co-founded a multi-million pound beauty brand, we find out how she manages to simultaneously run an organic farm (where she lives with her five children and husband), head up a charity, mentor young women looking to get into the beauty industry and find time for herself.
Just thinking about it exhausts us, but she manages to make it work.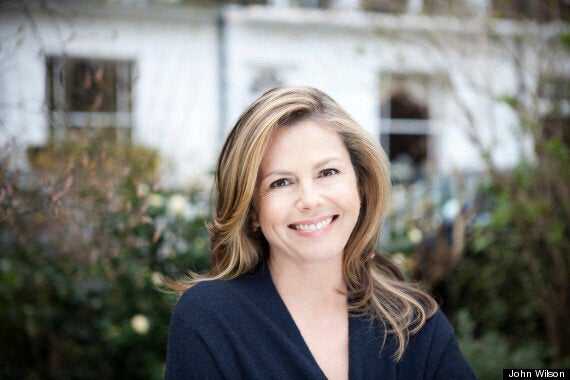 How do you balance your work and personal life?
I make a lot of lists and try to be super organised.
I start with school calendars and block out all holidays as home-based work days so I'm not travelling. I also ring-fence key activities such as parents' evenings and sports day so I don't book key meetings on those days.
Has the balancing act become more difficult since becoming a mother?
When Kim Buckland and I co-founded the Liz Earle Beauty Co we were both working mothers with young children so we understood the pressures we both faced.
We started work after the school run, continued through until pick-up time then took a break for tea, bath and bedtime, before picking up work again in the evening.
This worked really well for us because we were both in the same situation. I always say that having a like-minded business partner is vital.
You run an organic farm with your husband, where you live with your five children. Why is it important to you to raise a family in the countryside?
We moved to the countryside 12 years ago to give the children more freedom in the outdoors, as well as to escape some of the daily pressures and constraints of urban living.
Living in a rural setting makes the children much more aware of the seasonality of the countryside, the cycle of natural crop production and how food is created. They can also let off steam much more easily by riding a bike around a field or climbing trees.
You give back to the environment a lot with your products. But how do you stay green on a day-to-day basis?
It is hard! I am by no means an expert but I always say it's progress, not perfection…
I try and minimise the amount of packaging I buy and have banned plastic bags in the house. I keep a stash of cardboard carriers that get re-used until they fall apart and keep a folded linen shopping bag in my work bag for spur-of-the-moment purchases. We use a jug water filter at home and in the office to remove chlorine and nitrates from tap water and I try not to buy bottled water. I love Ebay and Freecycle -– the ultimate in clothes and furniture recycling!
Talk us through and average day in the world of Liz Earle, from morning to night.
I long to be an early riser but in reality am much more of a night owl. I can happily sit with piles of research papers and books until the early hours –- problem being my children are all early risers. I force myself to bed by midnight or so and my alarm goes off around 7am. I can't get up without a cup of Earl Grey tea and I love my bedside Teasmade which provides this.
Thereafter, every day is different. Technology means I can work from wherever I am, home on the farm or on field trips around the UK or overseas.
Since founding the charity LiveTwice I find myself travelling more to visit our numerous projects and beneficiaries both in the UK and East Africa. It's important to know precisely what the needs are, how money is being spent and the difference being made to so many lives. I am also working on a documentary project about the plight of British dairy farmers and the importance to our health and wellbeing of drinking grass-fed milk, so at the moment I'm spending quite a bit of time standing in fields or milking parlours!
Wherever possible, I aim to be home for bedtime stories at 7pm, or at the very least a Skype chat with all the family.
Are there any daily beauty rituals you can't live without?
I absolutely couldn't be without the Liz Earle Cleanse & Polish Hot Cloth Cleanser. I am extremely proud of this hard-working skincare classic, which I created back in 1995. It is such a wonderful beauty must-have and I love the way it works so well for all skin types.
I'm a great believer in the power of plant oils on the skin (instead of bland minerals oils) and so also have a healthy addiction to Liz Earle Superskin Concentrate – the divine smell alone of this golden pure oil elixir is enough to relax and restore me, let alone its skin-plumping and rehydrating skin benefits.
Do you think it is important for women to spend some time to make time for themselves?
Yes, absolutely, if you can. I try and book in the odd blow-dry or pedicure as a bit of me-time –- being pampered for an hour is a great way to re-charge during a busy schedule. I'm also a fan of facial massage (the Liz Earle facials were designed to include quite a bit of this) and booking in to the treatment rooms is a rare and special treat.
What do you do to let off steam and relax?
I'm a fan of Nordic walking, where you stride out energetically with a pair of poles, and love to do this on an early Friday evening as a way to shake off some of the stress and tension of a busy week.
As a family, we go to church most Sundays and this is also a great way to connect with something higher than ourselves - and helps put what's really important into perspective.
You've spoken about the benefits of detoxing in the past. Tell us why you're such a fan
Detoxing is a great way to curb excess and take a dietary break from bad habits. I like the principle of fasting or eating lightly for two days a week – the 5:2 diet is a good principle to follow not just for weight loss but for health gain also.
Personally, I feel better when I take the occasional break from alcohol, caffeine and refined carbohydrates (especially sugar). During these detox days, I load up with low-GI fruits such as apples and plenty of local, seasonal veg. I love making fresh herb teas and keep a herb window box outside the kitchen to make instant mint, chamomile and rosemary teas.
Who inspired you to go into the beauty industry and why?
I was working in the press office at the original Molton Brown hairdressers in the, then, very fashionable South Molton Street in London. As soon as I spoke to a journalist on the phone I realised that I wanted to be the person at the other end asking the questions. I got my first job as a junior beauty writer on a glossy monthly called Woman's Journal and was encouraged and inspired to write by brilliant editors, who gave me the confidence to write my first beauty and health book, Vital Oils, which became a bestseller, back in 1991.
You're part of the mentoring scheme for The Prince's Trust. If you could give one piece of advice to women trying to set up their own business what would it be?
You have to be completely passionate about your chosen area and spend so much time researching so that you know your chosen subject inside-out, upside-down, back-to-front and then a bit more…