The metallic trend is a big deal for Spring/Summer 2013 and as Alexandra Jones found out, there's nothing like a futuristic fabric to outshine everyone else in the room with...

My housemate nudges me 'err, did he just wink at you?'

It is two weekends ago and I'm sitting in the sun opposite a guy who had turned up to my barbecue with a group of friends. Despite the fact that it was still teeth-chatteringly cold in the shade, my housemates and I had decided to hold our first barbecue of 2013. We got some meat, fired-up the coals and put on the summer-in-the-city outfits we'd been saving since February. As a recovering dungaree addict, I had resolved to wear something that was as far a cry as possible from the dowdy all-in-ones I'd spent the winter in: a foil-effect leather skirt. It had been sitting in my wardrobe for weeks reflecting back at me the fears I had of looking as if I'd wrapped my arse in tinfoil but to my delight, it was a complete hit...well, almost.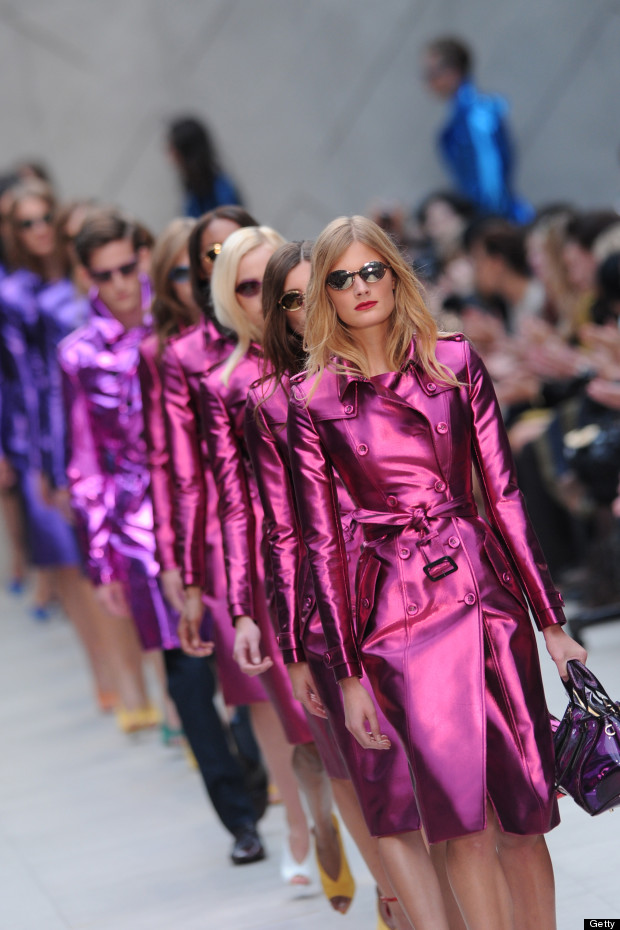 It was the kind of shiny kaleidoscopic silver that had recently kept me clicking through a bajillion (actual number) pictures of Spring/Summer 2013 runways. Burberry, Alexander Wang, Nina Ricci, Diane von Furstenberg, all heavy with precious-metal fabrics. I was half mad with lust in a way that I don't usually get about clothes (well, apart from dungarees). "I adore metallics. Always have, always will," agrees Marie Thompson, super-cool blogger for Kingdom of Style. "As children, we are drawn to things that stimulate [us] with vivid colours, contrasts and light. As grown-ups our fascination is less obvious but the reappearance [of metallics] season after season...is testament to the fact that we can't resist their playful and dramatic charm."

At the barbecue, the skirt took on a life of its own; I was even complimented on it by a random shopper in the Sainsbury's Local when I went to buy more food (my glee was tempered when she pointed out a blob of rogue ketchup on my chin, but still). Emma Fox, Women's Wear Head of Buying for Asos laughed when I told her, but wasn't surprised. "Metallic fabrics are the ultimate fashion magpie material...elevating casual outfits, making them feel more luxurious and adding a futuristic, modern element", she said.

"I think the allure of metallic fabrics is that it blurs the line between day and eveningwear," adds stylist Amy Bannerman, who has worked with Daisy Lowe and Emilie Sandé. Carmen Borgonovo Fashion Director at my-wardrobe.com agrees. "They offer the perfect way to lift a simple outfit. Adding an elegant metallic shoe or bag to a paired down outfit will elevate your look instantly."

I wore it with a sweater, which by the end of the afternoon I could barely get over my wildly inflated head. That is when I noticed the guy opposite me looking over, and yes, it did seem as if he was winking. Noticing that I was looking, he put on his sunglasses, got up and sauntered over. I lounged back and prepared my best 'sorry, I've got a boyfriend' eyebrows. He leaned in and said: 'do you mind if I sit here? It's just that the sun's reflecting off your skirt right into my eyes.' See, almost a complete hit.

Shop our favourite styles below: