Sitting at a desk for eight hours a day five days a week takes its toll on your back, even if you follow all those pointers laid out by HR about sitting up super straight with your feet flat on the floor etc, etc.

Okay confession time, my usual desk positioning is reminiscent of a primitive ape - and my face will often make contact with my keyboard. I know it's terrible but sitting up straight is a damn struggle. Team poor posture with the everyday stresses of work, commuting and all those niggles in between and you've got one tense back.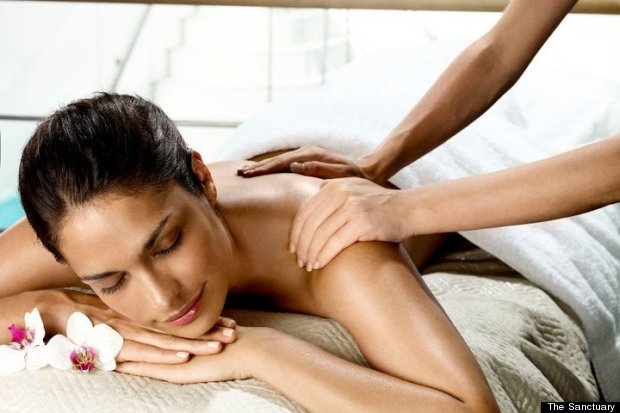 So, this week I decided to try out the Muscle Melt Massage at The Sanctuary Spa in Covent Garden before I started slouching around like a Quasimodo impersonator. The 85 minute full-body treatment, inspired by the indulgent rituals of the hammams of Marrakech, sounded like the perfect solution to my aches and pains.

On the day of my massage I was granted access to the London-based spa for two hours either side of my evening treatment, so I decided to take full advantage and spent a good while floating about in the pool, lazing back in the jacuzzi and relaxing in the hot sauna - totally lush.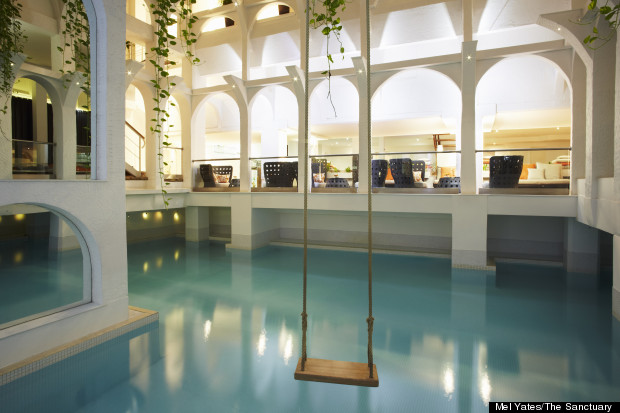 By the time my appointment came about I was already feeling suitably chilled out and seriously doubted I'd be able to stay awake for the duration of my massage. As I lay myself down on the heated (yes heated!) masseuse's table I was ready for sleep but the prospect of a full body cleanse, exfoliation and massage stopped me nodding off.

My therapist began with my lower back and worked her way up to my tense shoulders, and after a good 20 minutes easing out every single knot she placed a heated wheat bag between my shoulders. In that moment all my tension melted away - I guess that's where the name comes from.

While the masseuse worked my legs and arms - places I didn't even realise were causing me so much discomfort until all the problem spots were dealt with - I don't think I could've been more relaxed if I were sat on a beach somewhere nursing a pina colada.

"Do you mind having your stomach massaged?" asked the therapist. In all honestly the thought of having my belly rubbed wasn't the most appealing thing, but, you know what it's like in those situations - you just go with it. And I'm glad I did.

After my treatment I waltzed back to the dressing room feeling as light as a feather without a knot or a strain to complain of. Sheer bliss.

Prices
25 minutes facial cleanse and massage (includes scalp massage) - £45
55 minutes full body massage - £75
85 minutes full body, cleanse, exfoliation and massage - £105

For more details and to find your nearest spa check out The Sanctuary website.



MORE!
This Week You Should Try... Ombre Hair
This Week You Should Try... The Gwyneth Paltrow Detox
The Week You Should Try... Power Plates
This Week You Should Try... Ciate's Caviar Manicure