I've had bikini issues for forever. I remember being 10-years-old, on holiday in the south of France and deciding to skip my croissant breakfast because I didn't want to have a big tummy in my two-piece. So far, so unhealthy, right?

And this kind of behaviour continued before and during every holiday until this year, when I put my foot down. Enough of being the girl who goes mental every time she's within two weeks of a beach. I was turning 30 and going to Barcelona. I wasn't going to arrive with bad skin, obsessively thinking about what each meal may or may not do to my waist.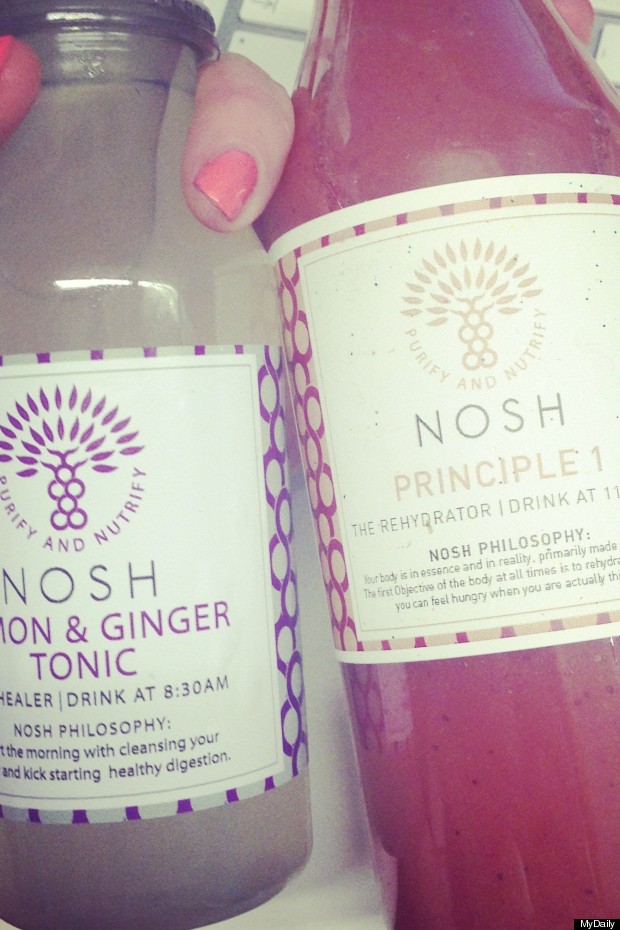 Instead, I decided to do a pre-holiday juice-cleanse. Basically its results ticked all my boxes in terms of what I wanted to look and feel like by my 30th birthday. Better skin, calmed-down IBS and - as a result - not so much bloating. The only thing I want to see less than my own bloated stomach pre-going-on-holiday is a volcanic ash cloud.

Anyway, the good thing about Nosh Detox's plan is it's just three days and the five-juices-a-day are really quite filling. I'm not saying you'll ever feel like you've just had a steak dinner but equally you don't get dizzy/fantasise about Haribo/forget your own name. It's manageable.

Also, the juices taste good which, believe me, is rare. Usually you've got to take a grimace-gag-and-bear-it approach to this sort of thing, but these juices taste like pineapple and avocado (incidentally, two of my favourite things). In short, drinking them is no hardship.

You're told when to drink each one (the time is on the bottle) and you get a daily email from Nosh to keep you motivated (which is good because loads of people always try to entice you off the juice wagon).

By the end of three days, I feel clear-headed and clean. It's like dry January all over again, except this time there's been no boring month of cranberry juice. My skin is dewy, my sleep better and my stomach flat thanks to my usually raging IBS simmering down.

For the first time ever (honestly, ever) I put on a bikini and head to the beach without a second thought and I know it's beyond cheesy but it's incredibly liberating to not be in an angsty fug about the pros and cons of my shape.

The cleanse isn't easy but I would definitely recommend it - you get good skin, a flat stomach and it takes just three days. The perfect pre-holiday program.

For more information on Nosh Detox programs visit its website here.

MORE
Read about the latest treatments here.