Tried? Nail Rock Frou Frou Holiday kit

Price? £5.99

Application? This kit was super-easy to use, and to my surprise, didn't require a steady hand - result!

All you have to do is chose your polish and apply as usual. Before your nails are dry and the polish is still tacky just drop your 3D design of choice on to the nail. Tweezers would probably be a good idea but I was a bit lazy just used my fingers. The designs should stick when the polish dries but the kit comes complete with nail glue to make sure those cheeky snowman and pesky candy canes stay secure.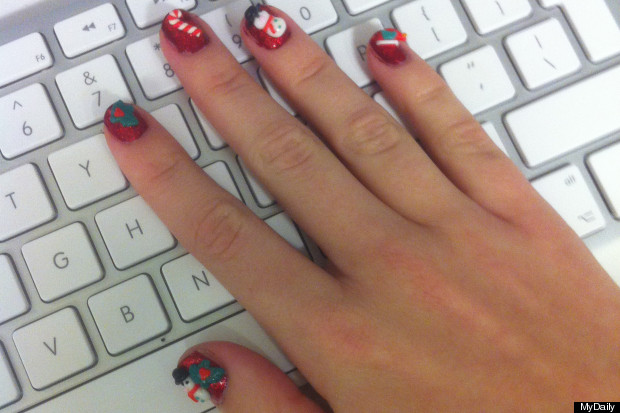 Clean up? The clean up was pretty simple as there wasn't much mess, and even after accidentally glueing a couple of fingers together, all came good with a touch of nail varnish remover.

Results? I was pretty impressed with the results. Although, my nails didn't look as pristine as the ones on the box (which is more than likely due to my not-so-hot varnish application) I was certainly feeling more festive!

Reaction? Lots of ooohs and aaahs, and 'where did you get your nails done?' *blush*.

Lasted? Longer than expected. I was all set to find little holly leaves and snowmen hats stuck in the inside of coats, gloves etc. but this stuff really stays! (I'm on day four-and-counting...)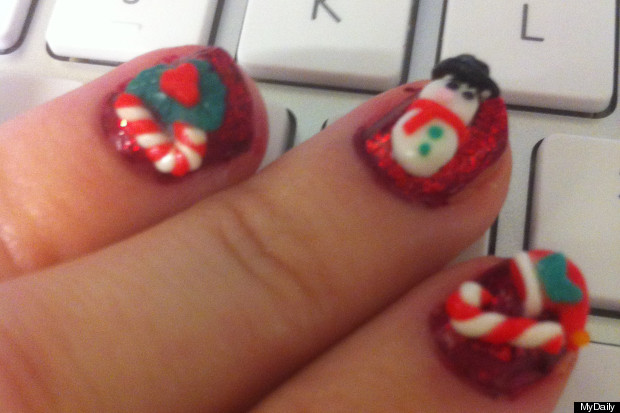 Practical? Not so much. Although these nails do look great, they're probably more suited to the party scene than the office. Holding a pen felt a little strange with these 3D designs stuck to my nails, and I was worried I might ladder my tights. Not the best nails for running your fingers through your hair, cue little finger awkwardly caught in finge.

Try again? I would definitely wear this nail trend again, but I think I'll wait until it's actually Christmas.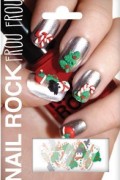 Nail Rock Frou Frou kits are available at Asos and