God, what a rubbish day for women this is. Not only have we discovered porn laws allow animals and dead people more rights than females but Vice has published a weird fashion shoot recreating famous female suicides. Er, can someone pass the vodka please?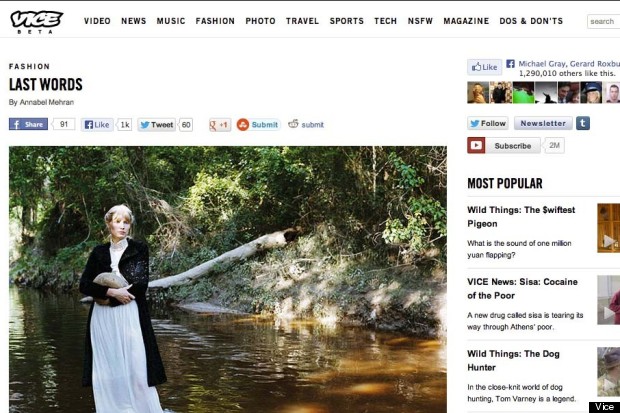 Anyway, the thing with the Vice shoot is apart from the fact it's just so stomach-churningly "we're cutting edge, yeah?" (oh God, vomit) it's also confusing. Am I supposed to want that dress the girl posing as Dorothy Parker slitting her wrists is wearing? Should I feel like rushing out to buy the outfit the model pretending to be Sylvia Plath has got on?

I really don't feel like shopping at all after this. I feel like going round Vice's office and punishing them with a four hour lecture on the subtle liminality of Mrs Dalloway because regardless of what's cool in hipster la la land, using the lowest imaginable point of brilliant women to make a damn fashion spread is pretty devastating in the real world.

But it's getting the attention it wanted, so mission accomplished right? Vice: trendo media's version of Samantha Brick - measuring success by how many people it manages to piss off. Like I said, rubbish day.