Over ten million people watched Call The Midwife's Christmas special and last night, 9.3 million viewers tuned in for the first episode of the second series. These are the show's best ratings yet - so why are we hooked?

For me, it's not about seeing the dramas of expectant mothers in 1950s East London unfold. In fact, the child birth aspect kind of put me off (inevitably, there's a lot of screaming).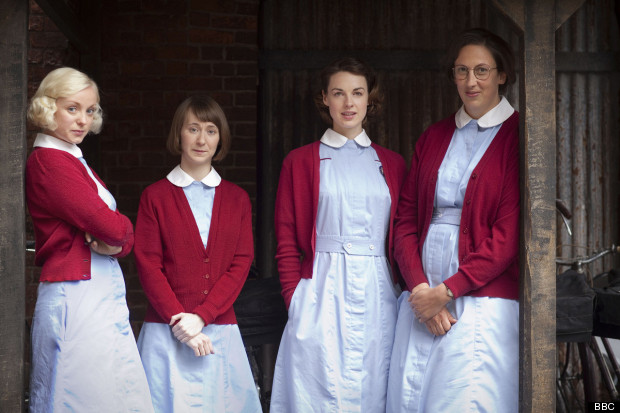 But the period in which it's set does thrill me. After all, the Fifties one of style's greatest eras, and despite its portrayal rough, tough Poplar, Call the Midwife is also a fashion history lesson in how independent working women styled it out in 1958.

When they're not delivering babies, these midwives are cycling around the city looking immaculate, thanks to their tightly-belted macs (still a style staple), leather brogues (the smartest flats around) and berry-coloured berets (necessary for preventing bad hair days).

And how do they make a potentially lacklustre outfit shine? A Peter Pan collar of course - something we can all get hold of at the moment thanks to it basically owning the high street last year (thanks Alexa Chung).

As for the 'off-duty' outfits, this is when the midwives' style comes into its own. Sweetheart necklines, floral print tea dresses, patent black midi heels and boxy, leather handbags in rainbow colours all featured in last night's new episode and frankly I'd wear the full shebang everyday if it kept me looking as chic as they do.

Perhaps this is what has surprised me the most about Call the Midwife - I never thought I'd find style inspiration from a show about midwifery, but there you go. Trust me fashion fans, this one's for you.