Six people have reportedly been killed in an "apocalyptic" train crash near Paris, according to the French Interior Ministry.
The train derailed on Friday afternoon around 4pm near the suburb of Brétigny-sur-Org. The train had just left Paris and was heading towards Limoges when it came off the tracks.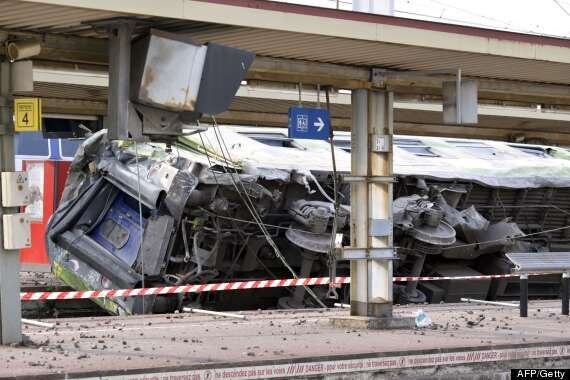 The train crashed on Friday afternoon near Paris
A police source said "The train arrived at the station at high speed. It split in two for an unknown reason. Part of the train continued to roll while the other was left on its side on the platform," the police source said.
According to French newspaper Le Parisien, 10 people are said to be in critical condition, and more than 60 are believed to be seriously injured.
French President Francois Hollande has arrived on the scene and praised the quick response of emergency services expressed his "solidarity with the families".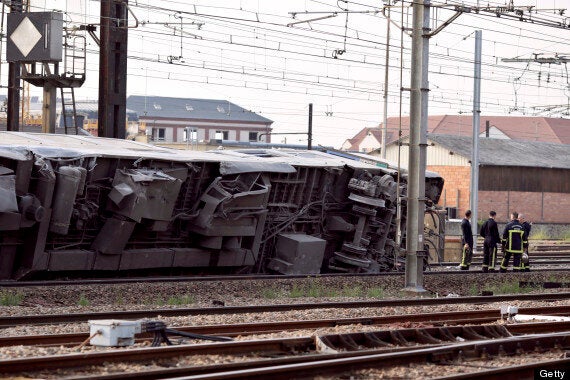 The scene at Bretigny-sur-Org
SNCF, the French national rail authority, said that the crashed train was carrying 385 passengers. A hotline has been set up for those needing emergency information.
"There is panic. This is an apocalyptic spectacle," said Brétigny's Mayor Bernard Decaux told Le Parisien. "We are attempting to get more information, but we are dependent on the firefighters."
Graham Hope, a passenger on the train, told Sky News that the train "bounced up and down like a bucking bronco".
"It was bouncing for several seconds before we came to a halt. My carriage came to a halt in the station.
"Everybody was very calm, only a couple of people were quite concerned. We pulled together very well, organised ourselves to get out of the carriage.
"I got a minor head injury, just a gash on the top on my head and minor cuts. There was glass everywhere, in people's pockets.
"I was in the half of the train, the three carriages left behind when the train split in two. I looked down the line and you can see the rest of the train.
"I heard that the last carriage had no injuries, but the first carriage of the three left in the station was on its side, with a major hole in its side. I'd be surprised if people got out of their unscathed."
Foreign Secretary William Hague said in a statement: "I was shocked to hear about the serious train crash outside Paris. My thoughts are with the victims and their families.
"The British Embassy in Paris is in close touch with the French authorities and stands by to provide any assistance required."
The Foreign Office told HuffPostUK it had no reports, as yet, of any British casualties.
Related