David Moyes' underwhelming start to life at Manchester United has already got supporters pining for Sir Alex Ferguson, and now they have a new method via a Super Mario-inspired video.
Chronicling the Scot's 26-and-a-half-years at Old Trafford, the era begins under a rainy cloud and ends aboard an open top bus marking the club's 20th title win.
A neat timeline featuring the woolly hat Ferguson wore for his unveiling in November 1986, a couple of memorable banners and managerial villains toppled, it's an innovative tribute to United's most successful manager.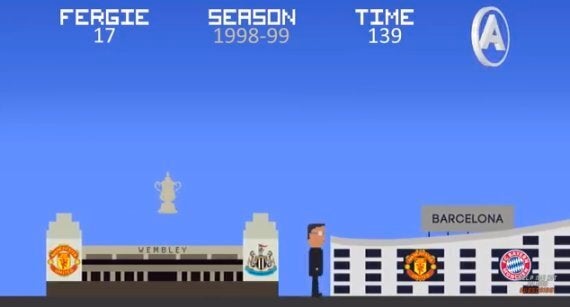 Ferguson, a la Mario, nudges up trophies like rings on the revered Nintendo game and jumps on the heads of antagonists including Keegan, Wenger, Mourinho and Benítez.
Time will tell whether Moyes' era begins under a rainy cloud.
Popular in the Community