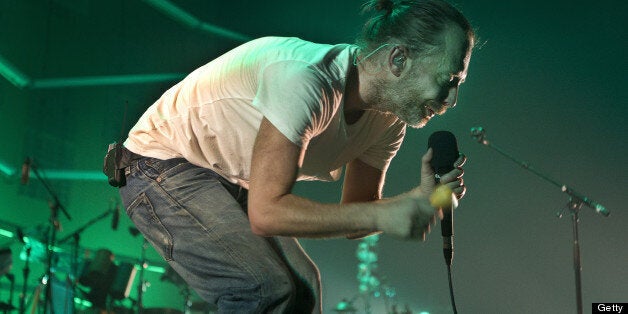 Radiohead's Thom Yorke has pulled his bands' music off streaming music service Spotify after claiming that new artists "get paid fuck all" for their work.
Yorke's solo album 'The Eraser' and that of his side-project Atoms For Peace are no longer on Spotify, though Radiohead's back catalogue is still available.
On Twitter Yorke said that his act of "small meaningless rebellion" was a result of an "equation that just doesn't work" - adding that tech investors and not musicians reap most of the rewards.
Spotify provides unlimited access to streaming music at two tiers of £5 or £10 a month, as well as a limited and ad-supported free service. But while fans have flocked to the site - with more than 6 million paid accounts and 26 million overall - artists have not all embraced the new model - as Yorke's outburst attests.
Yorke's announcement was supported by his longtime producer Nigel Godrich, who said that while the streaming model may support artists with extensive back catalogues, new bands were usually left with "no power" by the standard Spotify deal, which pays an average of about 0.4 pence per stream.
Other artists including FourTet agreed, and said that they had already pulled their own tracks from the service.
Yorke's decision is just the latest (and highest-profile) attack on the site by artists, many of whom claim it doesn't represent a fair deal.
But Spotify says that it works hard to find a fair model for musicians. The service's artist in resident DA Wallach called for Yorke to "have a conversation" about how they can work together in the future.
Spotify responded in an email to journalists that it was "100% committed" to making its service "the most artist-friendly" possible.
"Spotify's goal is to grow a service which people love, ultimately want to pay for, and which will provide the financial support to the music industry necessary to invest in new talent and music. We want to help artists connect with their fans, find new audiences, grow their fan base, and make a living from the music which we all love.

"Right now we're still in the first stages of a long-term project that's already having a hugely positive effect on artists and new music. We've already paid $500m to rightsholders so far and by the end of 2013 this number will reach $1bn.

"Much of this money is being invested in nurturing new talent and producing new great music. We're 100% committed to making Spotify the most artist-friendly music service possible and are constantly talking to artists and managers about how Spotify can help build their careers."
Popular in the Community