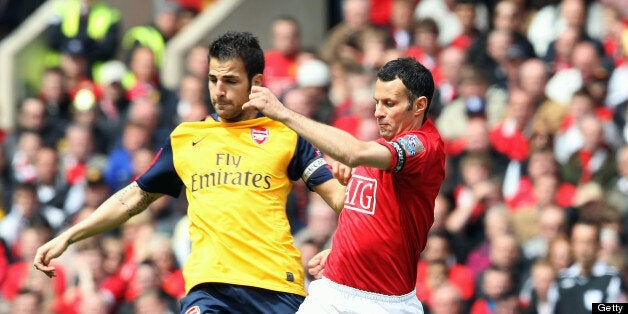 Manchester United have lodged a £26 million bid for Barcelona midfielder Cesc Fàbregas.
After Thiago Alcântara joined Bayern Munich on Sunday, United have turned to another Barça midfielder, with Fàbregas, 26, believed to be manager David Moyes' prime target.
Moyes stressed at the weekend United were "short" in midfield and the club are targeting two central midfielders to complement Michael Carrick.
United have not signed a player in that position since Owen Hargreaves arrived from Bayern Munich in 2007.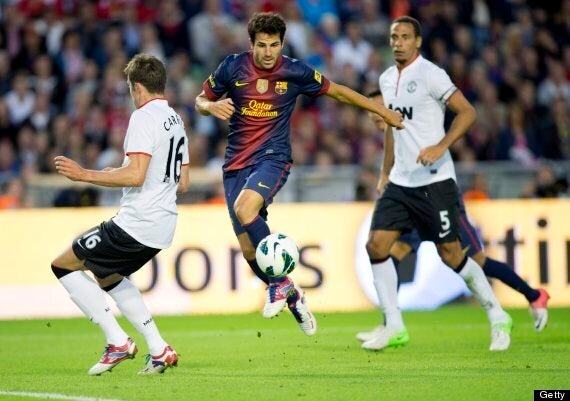 Fàbregas played against United in a pre-season friendly last summer
Since Hargreaves' injury problems recurred in 2008, United have possessed a paucity of options in the area, which has been memorably exposed by Barcelona, Liverpool, Basel and Manchester City, amongst others.
Carrick has arguably been United's most consistent player over the past 20 months but struggled for form for two-and-a-half-years in the wake of Hargreaves' tendinitis troubles.
Anderson has failed to fulfil his potential and though Darren Fletcher played commendably between 2008 and 2010, his ulcerative colitis illness has jeopardised his Old Trafford career.
Tom Cleverley's progress has also stalled since an auspicious start to his Old Trafford career and Carrick, 31, is in need of urgent support.
The Premier League champions are waiting to hear back from the Catalan giants, still smarting from Thiago's exit.
Barça president Sandro Rosell is under immense pressure after the Under-21 European Championship winner departed the club at the weekend.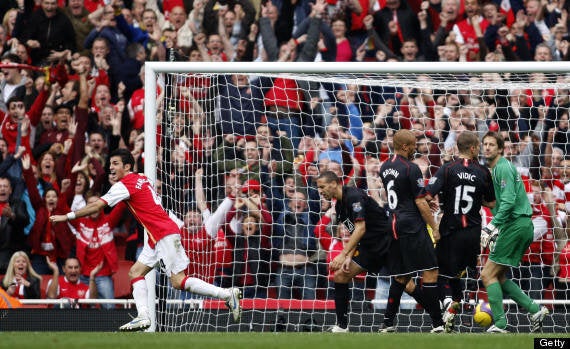 Fàbregas celebrates scoring against United for Arsenal in a 2007 draw
Thiago was touted as the long-term heir to midfield maestro Xavi, and his transfer to Bayern would have been unlikely under Rosell's predecessor Joan Laporta.
Fàbregas' £30m return to Camp Nou with Alexis Sanchez ironically sparked Barcelona's downfall on the continent and he has struggled to break into the first team ahead of Xavi, Andrés Iniesta and Sergio Busquets.
The Spain international started 38 games last season but was regularly rotated by coach Tito Vilanova.
Fàbregas's former club, Arsenal, are believed to have first refusal and a £25m buy-back clause for the player they sold in 2011.
Ironically, Fàbregas is believed to be the Arsenal player who threw pizza over former United Sir Alex Ferguson following a contentious 2-0 loss at Old Trafford in October 2004.
Popular in the Community