Rolling Stone magazine has chosen the Boston bombing suspect as its cover star, triggering an angry reaction from readers.
The music mag's cover - usually adorned by pop stars and other iconic figures - features Dzhokhar Tsarnaev, with the headline 'The Bomber'.
Tsarnaev faces 30 counts of using a weapon of mass destruction in the two blasts at the Boston Marathon in April that killed three people, including an eight-year-old boy.
The August edition is advertised on the magazine's Facebook page, which says contributing editor Janet Reitman spent two months speaking to Tsarnaev's friends, teachers and neighbours to produce "a riveting and heartbreaking account of how a charming kid with a bright future became a monster."
It lists five "revelations" about the 19-year-old from Kazakhstan, including that he never spoke about the 9/11 attacks and played down the fact that he was a Muslim at school.
According to Rolling Stone:
Around 2008, Jahar's older brother Tamerlan confided to his mother that he felt like "two people" were inside him. She confided this to a close friend who felt he might need a psychiatrist, but Zubeidat believed that religion would be the cure for her son's inner demons and growing mental instability, and pushed him deeper into Islam.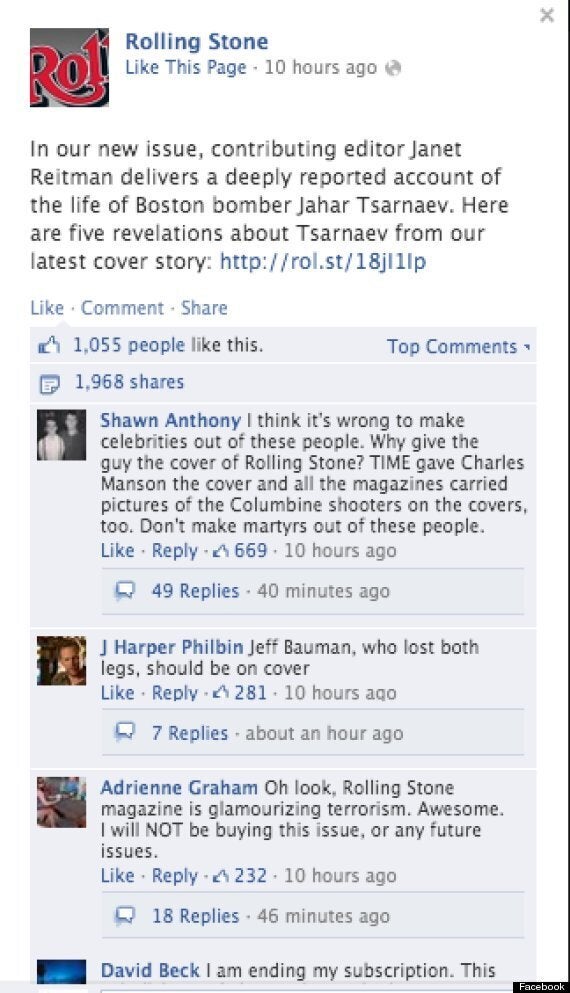 The new magazine's cover was posted on Facebook
But readers do not appear impressed, promising to cancel their subscriptions as a result.
On Twitter, the cover was branded "horrible", "stupid" and "tasteless".
Popular in the Community