The young man suspected of orchestrating the Boston Marathon bombing has arrived in court on Wednesday, where he will face survivors of the tragedy.
Dzhokhar Tsarnaev's arraignment takes place in federal court in Boston, with supporters crowding outside proclaiming the former medical student's innocence.
The demonstrators yelled "Justice for Jahar," Tsarnaev's nickname. One woman held a sign that said, "Free Jahar." A U.S. Marshal's van, believed to be carrying Boston Marathon bombing suspect Dzhokhar Tsarnaev, arrives at the federal courthouse for his arraignment
Lacey Buckley, 23, told AP: "I just think so many of his rights were violated. They almost murdered an unarmed kid in a boat," she said.
Liz Norden, whose sons Paul and JP each lost a leg, is among those expected to attend, ABC News reports. She said she plans to be there to see "the face of evil," as she described Tsarnaev.
"It has been incredibly hard to accept what happened to my boys,'' Norden told ABC. "I'm angry. I want to be there."
Tsarnaev has been charged with using a weapon of mass destruction in the bombings that killed three people and wounded more than 260. He could face the death penalty.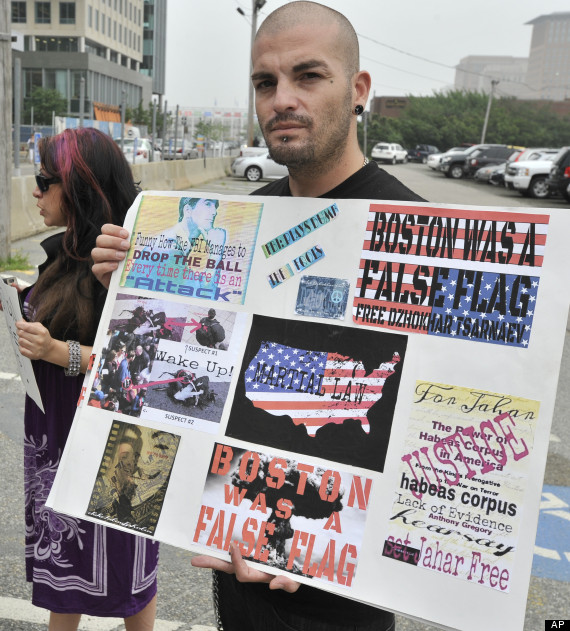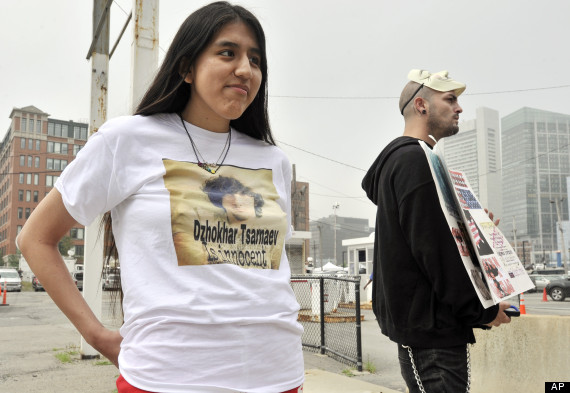 Supporters of Tsarnaev outside court
Kyrgyzstan-born Tsarnaev arrived at the courthouse accompanied by a four-vehicle motorcade that included a van, a Humvee and a state police car.
Authorities say Tsarnaev carried out the Islamist-motivated attack with his brother Tamerlan Tsarnaev, who died following the shootout with police. The younger brother was found cowering in a dry-docked boat a day later.
Prosecutors say Tsarnaev wrote about his motivations for the bombing on the inside walls and beams of the boat where he was hiding, that the US was"killing our innocent civilians."
"I don't like killing innocent people," he wrote, adding: "I can't stand to see such evil go unpunished. ... We Muslims are one body, you hurt one you hurt us all."
Three people, Martin Richard, 8; Krystle Marie Campbell, 29; and Lingzi Lu, 23, were killed by the bombs, which were improvised from pressure cookers.