Britain will continue to bask in sunshine and soaring temperatures today as the heatwave shows no sign of abating, forecasters said.
The country experienced the hottest day of the year so far yesterday, with the mercury hitting 32.2C (90F). People enjoy the sunshine on Brighton Beach
Temperatures are expected to hit 30C (86F) again today, according to MeteoGroup, the weather division of the Press Association.
A level three heat health watch has been put in place for London and the South East with the elderly and young, and those with chronic health conditions, urged to take extra care.
Forecasters have said Britain is in the midst of its first prolonged heatwave since 2006, with six consecutive days of temperatures above 30C (86F).
And it is set to continue into next week, with temperatures in the high 20s Celsius at the weekend before rising to 30C and above next week - bringing with it an increased risk of thunderstorms.
Gemma Plumb, a forecaster with MeteoGroup, said there was no sign of temperatures dropping significantly in the coming days.
"On Saturday and Sunday it looks like we will have temperatures of around 28C (82.4F) but by Monday we have temperatures of 29C and 30C, with an increased risk of getting some showers," she said.
"Today there is a risk of thunderstorms across parts of south-east Scotland, south Wales and south-west England, but the rest of the country should remain dry."
Temperatures reached 32.2C (90F) at Hampton in Surrey yesterday, making it the warmest weather since Saturday.
Story continues after slideshow...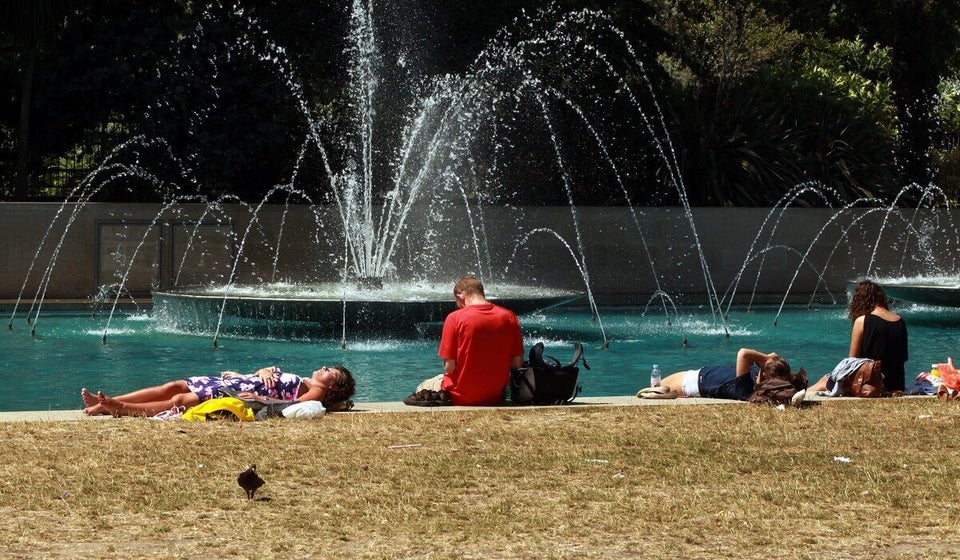 British Heatwave
MeteoGroup said average rainfall for England and Wales so far this month was only 15% of the average at 4.9mm, while Thames Water said it had seen a 15% rise in the demand for tap water in London and the Thames Valley.
The Met Office said the UK had seen 132 hours of sunshine between July 1 and July 15, which is 77 % of the average sunshine for the whole month.
Average daytime temperatures have also been 2C above average, it said.
Public Health England (PHE) officials have advised people to stay cool, drink lots of cold fluids and keep an eye those they know to be at risk.
Dr Angie Bone, heatwave plan leader for PHE, said: "In this continued hot weather, it's important to remember that high temperatures can be dangerous, especially for people who may be vulnerable such as older people, young children and those with serious illnesses.
"During very hot weather, pregnant women and people who have chronic illnesses, including cardiovascular, respiratory, renal conditions, diabetes or Parkinson's disease, may experience discomfort if indoor temperatures are particularly hot and in using public transport.
"Employers should ensure indoor areas are kept cool and consider allowing these individuals to travel to or from their place of work during cooler, or less busy, times of the day.
"For those working or exercising outdoors, strenuous physical exertion during the hottest part of the day should be kept to a minimum."
Police and fire chiefs yesterday reiterated warnings about escaping the heat by swimming in open water after four people died in separate incidents on Tuesday.
A 16-year-old boy and a 41-year-old man, from King's Lynn, were found dead in unrelated incidents in lakes at Bawsey Pits, Norfolk.
A man, believed to be a 21-year-old from Shropshire, died after getting into difficulties near the confluence of the Rivers Dee and Ceiriog on the Shropshire-north Wales border.
And a 40-year-old woman from Saltash died following what police called a "medical episode" while swimming in the sea at Seaton, near Torpoint in eastern Cornwall.
Popular in the Community