Team Sky have given key data on Chris Froome's performances to French sports newspaper L'Équipe in a bid to end speculation the leader of the 100th Tour de France may be doping.
Froome has answered constant questions about doping ever since taking the yellow jersey almost two weeks ago, and on Monday Sky appealed for ideas from the media on how they could be convinced Froome was riding clean.
Until now, Sky team principal Sir Dave Brailsford has refused to make the team's power data - numbers which show riders' power output on the bike - public, claiming they were open to misinterpretation, but he has softened that stance sufficiently to allow L'Équipe access to some information.
The newspaper was granted access to Froome's data from 18 climbs dating back to the 2011 Vuelta a Espana as well as various other pieces of biological information.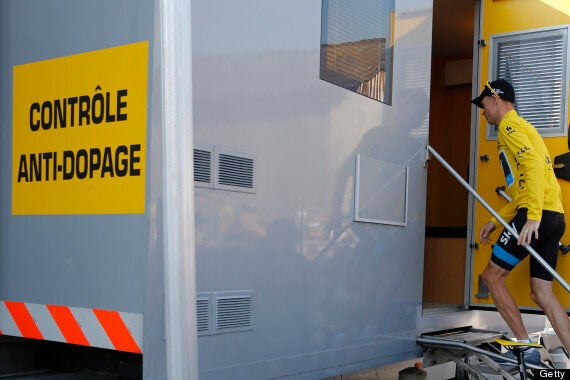 Froome arrives at the anti-doping control bus at the end of the 197 km tenth stage
L'Équipe had information analysed by biomechanics expert Fred Grappe, who is on the Tour with the FDJ team, and he told L'Équipe the data was consistent with of a 'clean' rider.
"His performances are coherent," read the paper's headline.
None of the data was published as per their agreement with Team Sky.
As well as information relating to those climbs, Sky gave L'Équipe access to Froome's history of doping tests, revealing he had been tested 19 times during this Tour, and 29 times in total this season.
Sky hope today's revelations will end the talk of doping which has been present throughout the 100th Tour - the first held since Lance Armstrong admitted to doping throughout his run of seven consecutive titles, all of which have now vacated.
Today's edition of French newspaper Liberation carried the headline "The Tour of Doubt" about Froome's picture.
Froome began today's stage 18 - a double ascent of the Alpe d'Huez - leading by four minutes and 34 seconds from Alberto Contador.