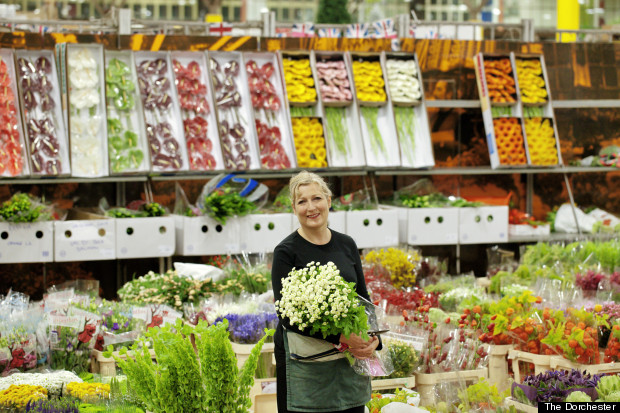 It's RHS Chelsea Flower Show week and we're feeling inspired by all the wonderful flowers we've seen. Unfortunately our abundant enthusiasm does not lead to similar levels of vase/bloom skill and so we turned to the Dorchester hotel's Designer Florist, Wendy Black to find out how to make the most of your cut flowers with minimal talent, effort and time...


1. Help! Someone has given me a bunch of flowers - am I expected to deal with them right away?
"If you don't have much time, cut the bottom of the stems, place them in the sink with water and arrange them later on. That being said, it can be good fun to arrange the flowers with the person who gave them to you."

2. I'm ready to start but I haven't got the right kind of vase/my vase is too small/my vase is far too big...
"Look in the cupboards and use whatever you have at hand, jugs, teapots and cups give that real country kitchen look, or use a variety of tall cocktail glasses for a fun, party look."

3. Where and how should I cut the stems if they are too long?
"Put your vase on the edge of the table and hold your flowers in the air, next to the vase, to see how short to cut the stems. Aim for around 10cms shorter that the vase, as the water will lift the flowers slightly."

4. I have no artistic skills whatsoever - are there any simple rules I can follow so my bouquet doesn't look horrendous?
"A simple five line design will always do the trick. Cut the flowers at different heights and arrange them in the vase in a stepping stone fashion [low to high], from left to right, and voila!"

5. They didn't come with one of those handy plant food sachets - is there anything in my cupboard I can use instead?
"Common home remedies such as bleach, aspirin and lemonade will only add bacteria to the water and it's difficult to get the ratio correct. Generally I would advise to simply use a clean vase and, as long as its bleached after use (by pouring hot bleach water into the vase for approximately 15 minutes followed by a thorough rinse), the flowers will still enjoy longevity."

6. What is the best way to disguise flaws like thin patches, messy stems, lost petals or leaves?
"For an easy fix, remove any damaged petals or leaves and arrange the flowers in a smaller vase. For the slightly more ambitious, add in a couple of big leaves like palm leaves or monstera leaves."

7. The arrangement is wilting - can I perk it up?
"Immediately change the water and, before placing the flowers back into the vase, wrap brown paper around the whole bouquet's heads and re-cut the stems. Then place the bouquet in hot water and leave for a few hours in a cool place - the airways in the stems will open and re-energise the flowers. If you have any flower food left, I would also add a little to the clean vase water."

8. Where do I put the finished bouquet? In a sunny place?
"I would avoid direct sunlight and find a draught-free area."

9. Should I change the water or just keep topping it up?
"I would always advise to change the water on a regular basis, flowers are living organisms and no one likes to drink stale water!"

And - with any luck - you should now be able to go forth and care for cut flowers like never before!