Nothing says light, luxe summer like an all white outfit. That's right, the top-to-toe white colour trend (as foretold by the Spring/Summer 2013 runway shows) is about mastering that pretty, pristine look. There's no blank to this canvas, the vibe is understated, yes, but it's about attention to detail: frill, lace, floral and gauze.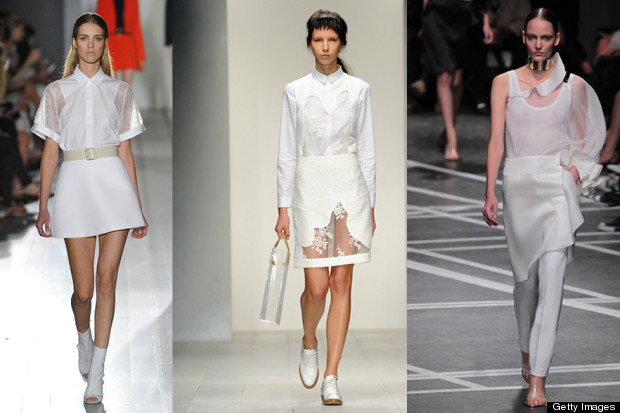 Whilst the idea of all white wears will have most shaking their heads at the thought of keeping their clobber immaculate all day long - let alone pulling off the shade without feeling like you're wearing bed sheets - there is a way to take on the trend that WILL make you look and feel, well, heavenly. If those red carpet movers and shakers can (yes: Alexa Chung, Karlie Kloss and Rooney Mara), we can too damn it.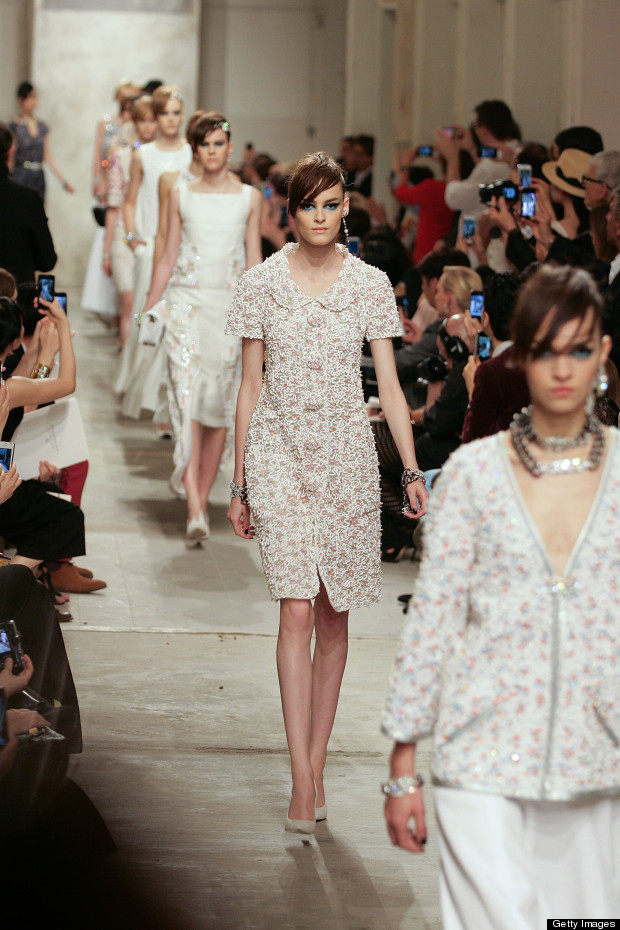 It's a bold trend to try but the results can be achingly chic in a way that's all grace and demure. In order to sway you (you're SO going to love this hue) here are a few pointers to give you a little white style inspiration. Have fun with this trend, you're a breath of fresh air. Just try not to spill.

1. Think texture. With one colour on the go you need to mix things up on the fabric front. Opt for lace, embellishment, jacquard and sheer panelling.

2. Layers: play with length and voluminous shapes. For example try out an asymmetric lace skirt with a silky/sheer tank and a boxy, lightweight jacket or shirt.

3. Match your accessories - yes keep 'em white too. White hand helds, cross-body bags and shoppers are a big deal as is showy jewellery but - play down the bling and mix in some clear/white perspex pieces.

4. Decide on a style that suits. These are all winners: sports luxe (think smart, slouchy gear), dainty florals (white brocade and lace), tailored shapes (think crisp, sleeveless shirts and pleated bottoms).

5. Wear white as it comes - the shades do not have to match perfectly.


In terms of beauty,
Adam Burrell
- makeup ambassador for
Barry M
cosmetics - says: "This trend really is about going back to basics and keeping it cool, fresh and simple. Once your skin is perfected, your brows are groomed and you've added a few coats of mascara, add definition using a bronzer - try Barry M's Natural Dazzle Bronzer."
If you're desperate for a flash of colour then Adam suggests getting the look with a killer lipstick, "Bright red lips were a popular look on the runway for this look and Barry M's Lip Paint in Pillar Box Red is the perfect red for this - an absolute classic and it suits so many skin tones."
Voila ladies, there you have it! *French accent* That's how to take on the all-white trend this season, go ahead - give it a whirl.