MyDaily's Celebrity Writer Ellen Stewart, 23, and her long-distance boyfriend of four years are facing another February 14 apart, not that they'd be doing anything if they were together anyway...

I was single for a good proportion of my teenage years, while all the other girls at school were shacking up with the apparently lovable rebels and smoked Benson And Hedges behind the sports hall. I looked on in misguided envy. On Valentine's Day, cards and red roses would be delivered to classrooms by the head-prefect-turned-cupid. I never got one. I hated Valentine's Day.

Fortunately secondary school didn't last forever and I found myself a handful of super-short-term boyfriends at sixth form. One Valentine's Day rolled around and my then boyf bought me a massive Me-To-You teddy bear and a garish 'To My Gorgeous Girlfriend' card *cringe*. I didn't get him anything. Needless to say he was far more committed to making it work than I was and things abruptly ended. So even when I had a boy who wanted to shower gifts and cards upon me, I wasn't a fan of February 14. And I'm still not. I mean come on, the most romantic day of the year couldn't even keep Clinton Cards afloat! The dreaded V day is just like New Year's Eve, an occasion that you can't really be bothered to celebrate but feel like you HAVE to. Let's stop this madness because, I'm just putting it out there, I don't really care that much.

Now I'm in my twenties and have found myself a nice young man. We met at university and we've been together for around four years-ish. We live 75.3 miles apart (I looked it up) and don't see each other much. But I'm STILL choosing to spend Valentine's Day 'bed-hopping' at The Supper Club to help a single friend find love instead of a candle-lit dinner with the bloke in my life. So shoot me.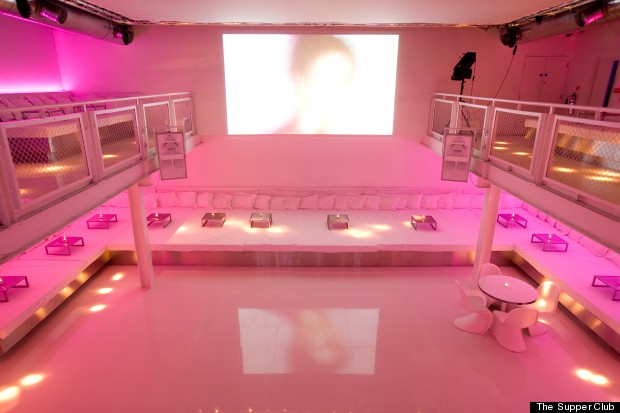 Am I expecting a card? Well, considering my boyfriend has only ever bought me a BIRTHDAY card once, er, no. How about flowers? OK I wouldn't turn my nose up at flowers but would rather not receive them on Valentine's Day. There's something a bit token gesture and here-you-go-love about it.

So, babe (I don't really call him that) if you're reading this, flowers once in a while are great but florists totally inflate their prices this time of year so don't get ripped off. What would be really nice is if you remembered it was Valentine's Day and sent a funny (not mushy) text. That's it.

MORE VALENTINE'S DAY FUN...
Valentine's When You're A Single Girl
Mr & Mrs: A Married Lady's Valentine Plans
Live-In And Long-Term: A Co-Habitor's Guide to Valentine's