In Jamie's eyes, what happens in Verbier stays in Verbier, but Lucy isn't so forgetful. Things get rocky for Ollie and Ashley, but Will Gore is distracted by Cheska's hair...

Last night the MiC crew headed to the countryside to relax and recharge their batteries. When I say "the countryside", what I actually mean is they braved the wilds of Surrey for a brief stroll around the woods and then piled into the nearest boozer for "chicken in a basket" all round.

So what did we learn during this rural jaunt? Firstly, that there are a number of bushes dotted around the Surrey woodland with more screen presence than Rosie. Secondly, we discovered that Jamie was still suffering from what doctors officially term "sex amnesia".



The biscuit-brained simpleton still couldn't remember what had gone on in that Verbier hot tub with Lucy. He told Rosie and anyone else dumb enough to listen (damn, that's us, isn't it, dear readers?) that he is definitely in love with Tara, or The Depressed Claudia Winkleman as she's known round my way.

Rosie might well have given him some good advice but I fell asleep half way through her monotonous response, so I can't really comment on exactly what she had to offer. Later in the show Binky's Mum did at least offer up one sterling suggestion. While channelling Theresa May via Vinnie Jones she suggested all Jamie needed was for "someone to give him a slap". Experience trumps youth every time, you see.

Spencer was also on hand to give his best 'boi' some pointers, sex amnesia clearly being one of his specialist subjects. Like a camper version of Bert and Ernie, they discussed things in bed together, with Jamie whimpering to Spenny that being a victim of Lucy's accusations was akin to being "put in jail for something you haven't done". Who would ever have thought that he and the Guildford Four would have so much in common? Justice for the Chelsea One. The campaign starts here.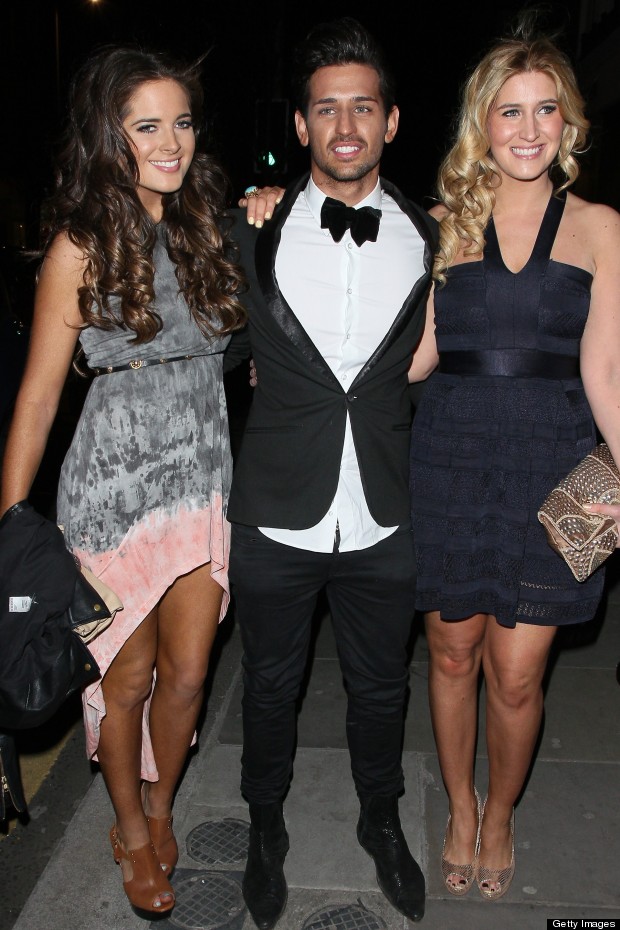 Across town, there was more man-on-man bedtime action, or at least, that's what Ashley was thinking, after she found out her bi-sexual boyfriend Ollie had been hopping into bed with his best mate Oscar (three parts oil, one part human) for "wine, cheese and soppy film night." After last week's blue movie revelations, Ashley seemed convinced they were watching something far more graphic than The Holiday or Casablanca, and that Ollie was sampling more than just Oscar's cheese.

Ollie did his best to put Ashley's mind at rest by telling her Oscar is straight, but she didn't look convinced. A dinner was hastily arranged so she could to get to know Oscar better. Francesca and Richard were also invited along for the ride.

Needless to say things went about as well as an EastEnders' Christmas lunch. Cheska hates Richard and Oscar and the feeling was more than mutual. Inevitably, a mighty row broke out. Ollie just sat there looking mortified at his friends tearing strips off each other. I just sat there looking mortified at the ludicrous collections of haircuts on show.

Cheska's barnet was the equivalent of a Mumford and Sons gig, far too much volume for anyone's good, while Ollie, Oscar and Richard (aka Dick), seemed to be involved in a competition to see who could slick their hair up to the highest point.

The result? Oscar won the hair off by millimetres and Ashley decided Ollie was no longer the man for her, dumping him a few scenes later. Ollie looked crestfallen when the bad news was delivered, but really he should keep his perma-tanned chin up. He might have lost his girl, but at least he's now free to snuggle up to Oscar whenever his heart desires.

CATCH UP...
Episode Three: Smut Is In The Air, Plus The Ultimate Spenny And Louise Showdown
Episode Two: Jamie's Got A Girlfriend! But Tries It On With Phoebe Anyway
Episode One: Made In Chelsea's Back! And Spenny's Got Beef With, Like, EVERYONE