 Television and radio presenter Lauren Laverne is currently showcasing her culture and style credentials working with American Express to host their behind-the-scenes coverage of arts events in and around London. Given this fact AND that her CV includes work covering the Turner Prize, interviewing big name UK designers, a daily show on BBC 6 Music - oh, and a wardrobe we covet more than is healthy - it would be rude NOT to ask her opinions on all things stylish and cultural. Here's what she had to say!

What's your favourite fashion memory?
"The most glamorous moment of my life was when I was six years old. My auntie Sharon was, at the time, a champion disco dancer in the South Shields area. I was wearing one of her dancing costumes sitting in front of the telly in my gran's council house with this Boney M silver lurex skull cap, feather boa, boob tube as a dress – one of those rainbow sequined ones - and a skirt that was a belt with fronds clipped onto it. My granddad was on telly because it was the miners' strike and they were interviewing him outside the pit. Because he was so handsome I thought he was famous and there was I (in my head at least) dressed as a queen. I don't think anything has ever equalled that moment for sheer limitless glamour and excitement since!"

Is it harder to have those moments once you get older and more self-conscious?
"Fashion's the same as playing with the dressing up box as a kid – I'm not saying you achieve the same effect but you achieve the same feeling. All this bollocks about getting it wrong. So the tabloids say you look shit? Who cares. It should be joyful and expressive – there are so few chances for people to express themselves nowadays. The more fun you can have the better."

Have you been on the receiving end of many negative comments?
"I remember when I worked on The Culture Show there were some snippy and actually quite sexist comments about the fact I was too dressed up – "The young lady appeared to be wearing a HEADBAND and FALSE EYELASHES!" But actually it's a cool opportunity to challenge that. Just because you want to wear something fun doesn't mean you're an idiot. People saying stuff online is just noise and you are more in control of the volume knob than you think. Grasp the knob and turn it down."

Does the focus on women's appearance threaten to overshadow their work?
"Yes and often explicitly. That will be the thing you're judged on but you don't solve that by – my friend invented this brilliant word "labradoring" where you hair gets blonder and your skin gets more tanned. Conforming as hard as you can doesn't solve people having a problem with you. Being who you are is a really important thing." Will you be attending Fashion Week?
"I'm going to go to as many shows as I can. I have to start booking them in the diary because, inconveniently, my oldest child is starting school around the same time – how rude! I'm either going to look really out of place at the shows or slightly overdressed for the school run."

Maybe a slanket and heels combo?
"Slanket and heels is hot for Spring/Summer!"

Any other Fashion Week action?
"A designer I really like has asked me to help with the music on his show so I've been privy to a moodboard which is the most exciting thing ever! I'm not sure I'm allowed to say who it is though, they were like 'Shhhh! This is so secret!'"

Who are you looking forward to seeing the most?
"Matthew Williamson and all the London greats - and the up and comers too. Mary Katrantzou is the nicest ever. When I was hosting the British Fashion Awards and she won her first big award she made the best speech!"

Describe your style in five words:
"I used to say 'A young, thin Pat Butcher' but I'm not as thin as I was and definitely not any younger..."

And Pat Butcher is no more...
"Maybe 'Good idea at the time'?"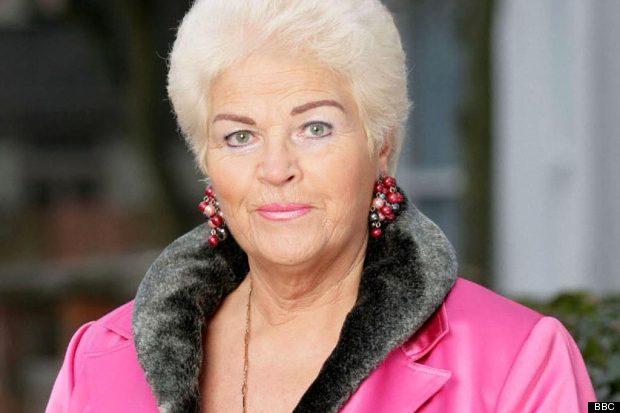 Important fashion question: Is it hard to dress for all the different events you're going to at the moment?
"I find it quite easy actually because if you are engaged in aesthetics and art and music and film it all goes together. Those things are all joined. That's one of the most fun aspects of my job, I can just say 'Today I'm going to wear this Antipodeum bunnies in a cemetery print!'

"If you're into culture the things you wear are probably going to be a bit more meaningful to you. That's not to say you don't just stick jeans and t-shirt on sometimes but when you're going out to do something special you're going to make more of a choice – whether it's in the form of trainers not made in a sweatshop or something given to you by a friend. I'm lucky in a way because I've always got more clothes than things to go to – is that a bad thing to admit?"

No – it just means you're futureproof!
"I'm not addicted to shopping?"

Nope! Which events have you been taking your futureproofed wardrobe to recently?
"I've been covering some of the events Amex are sponsoring over the summer. We've done Hard Rock Calling, we've got the Film Festival at the BFI coming up – we've been trying to get people a behind the scenes look. You have a little bit of access you wouldn't have normally."

And does fashion have an outsider status in the culture industry?
"People think it's silly – I don't know whether that's because it's thought of as a female thing so people have a sexist attitude to it. It's seen as very fluffy. In some ways it is but that's the best thing about it because it's fun and exciting and creative. Then you talk to any of the designers – I interviewed Matthew Williamson – and you find out what the day-to-day job is like. How you build that business and the amount of shows. It's insane. It's not candyfloss, it's not brainless. Some people pooh-pooh it but they're idiots."


---
Amex Entertainment Insider Lauren Laverne will be getting a sneak peek behind the scenes of some of the handpicked events that make up the 2012 American Express Preferred Seating programme. For more information visit
Facebook.com/AmericanExpressUK