 You might know her best as the singer of 2009 hit Shark In The Water but VV Brown (real name Veronica) has many strings to her artistic bow. In addition to working on a new album (due out in 2013 and provisionally titled Lollipops & Politics), Brown has released a comic book, taken part in UK-wide ad campaigns for Marks & Spencer and has just opened the VVVintage clothing store. We headed over to East London for a chat with Brown as she hosted a Nintendo 3DS photography fashion field trip as part of a VVVintage photoshoot.

Read on for VV's upcoming fashion projects, why Duchess Kate can't be too experimental, and what happened when VV met the Queen (N.B. There's a soundfile you won't want to miss...):

How did VVVintage come about?
"It started off with touring – I'd be on the road and collect things for myself and then it was collecting items of clothing for my friends and then I read a book called To Die For by Lucy Siegle about ethical fashion and sustainability and the environment – how much we waste in the west. It opened my mind and vintage became not just a kitsch, trendy thing but part of my lifestyle and I really believe in it."

Just in terms of fashion or is it more than that?
"I'm working on my next album right now – it comes out next year – even the packaging I'm thinking about recycling paper and things like that. It's changed my world."

Were you inspired by Lily Allen's vintage project, Lucy in Disguise?
"I was inspired by Lily. She wanted to do something with her sister and so she just went ahead and did it. We've definitely watched what they've done from a business point of view. I feel encouraged. I'd love to do something with them because we're both doing similar things so it would be nice to collaborate with her."

Are you tempted to move into designing?
"We're bringing out our first official fashion line in September with a designer called Mary Benson. We work with a lot of students from the fashion calleges and they all upcycle a lot of clothes with us –it's called Design With Oxfam – and stumbled upon this girl who is absolutely fantastic. I won't tell too much but we're in the process of making the first recycled fashion line. Not vintage – you can get the same jacket more than once – but it's all recycled fabrics. We've got some huge buyers and stockists interested – that's very exciting!"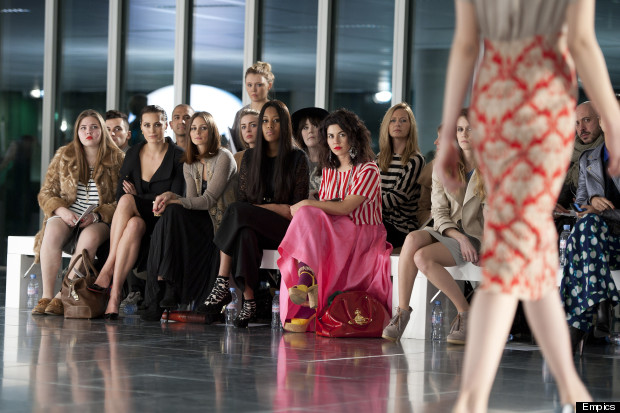 Are you going to be at London Fashion Week in September then?
"Yes! We're doing a big installation piece at fashion week – you should come!"

How did you get started in fashion - did you have a mentor?
"I work with a really cool stylist called Cynthia Lawrence-John – the fashion editor of Volt magazine. She actually opened my eyes to fashion. I was always into it but not high fashion and she introduced me to that world of editorial and fashion being more like an art form. She helped me develop. I feel like I'm her fashion baby that's grown up. "

Who are your style icons?
"I'm a huge fan of Yohji Yamamoto. I love that he is inspired by architecture and structure. In terms of celebrity style I love Alexa Chung. She dresses really elegantly and she's got a really strong identity – she's beautiful. Alice Dellal is an amazing fashion icon. Gwen Stefani is awesome. She's not alive anymore but Dorothy Dandridge and Bianca Jagger I adore. Just strong women with their own identities you can feel through their clothes." Should the Duchess of Cambridge be more experimental with her style?
"I think when it comes to the royal family we secretly love the fact they're conservative and classic. I like the fact Kate represents classic British fashion. I don't see it to be safe - it's elegant and polite. She's under a lot of pressure as the future Queen. We're in an age now where being eccentric is a parody. We're moving back to minimalism and elegance. Lady Gaga brought [eccentricity] to the mainstream so strongly that there's going to be a shift. I met the Queen and since I met here I'm a huge fan of the royal family."

Wait, wait, wait - you met the Queen?
"She was wearing a yellow dress a white hat with netting, white shoes and flesh coloured tights – I can't believe I know all that! Anyway, everyone has to wear badges saying your birth name so mine said Vanessa Louise Brown and – I still see myself as up and coming in the business still so I wasn't expecting the Queen or Prince Phillip to know me as a musician - and when I shook the Queen's hand Philip went [leans forward] 'Ooooooohh, VV!'



"I was like 'Oh my God!' Me and Marina from Marina and the Diamonds were freaking out in the corner. Since then I love the royal family – 'Ooooooohh, VV!'"

And finally, your best festival fashion tip:
"Shellsuits are in– get yourself a great multicoloured shellsuit! It's waterproof and stylish. You can get them with hoods too. Also, what we're doing is making ponchos out of tents. We've been going to festivals and picking up old tents to turn into jackets and coats. If you're interested in sewing or upcycling – or give it to a tailor – just pick up an old tent and turn it into a coat."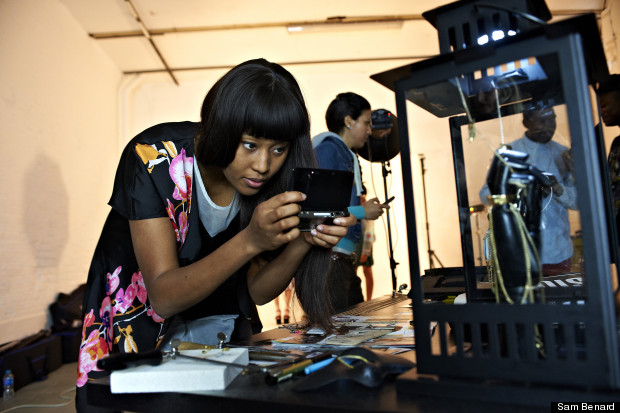 3D photography from the shoot will be included in the Another Dimension photography exhibition as part of Nintendo's Europe-wide 3D photography contest