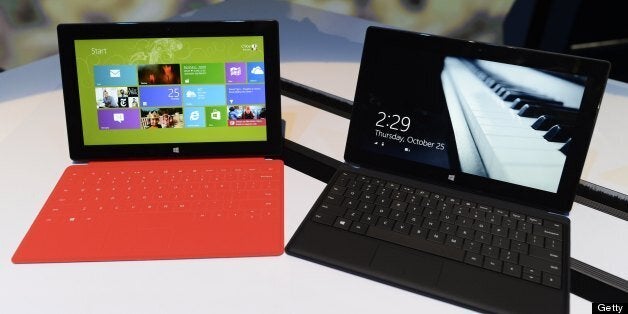 Microsoft's shares fell by almost 10% after it incurred a charge of more than $900 million on its Surface tablets.
The computing giant made an overall profit of $4.5 billion in the second quarter of 2013, it announced on Friday, but its earnings failed to ameliorate investors' concerns that its key businesses were struggling to maintain momentum.
Declining sales of PCs badly affected Microsoft's ability to shift customers onto the touch-focused Windows 8 over the last three months. Its much-hyped Xbox One launch faltered on criticism of its privacy and security policies. Windows Phone also has failed to make the breakthrough it requires - despite signs that sales are picking up of some key devices.
Even more seriously, at least for its quarterly bottom line, the announcement included the most obvious evidence yet that the company's Surface tablets have been a relative disaster.
Microsoft said that slow sales of the tablets meant that it had to absorb a charge of almost $1billion. The company recently slashed prices of the tablets in order to move inventory and inspire new customer support, but it comes too late for the quarter.
"That's the biggest miss we've ever seen from Microsoft, the biggest that I could remember," said Brendan Barnicle, an analyst at Pacific Crest Securities. "It looks like everything was weak and that's what we need an explanation on."
Microsoft said it needed to improve, and cited a major reorganisation of the company around devices and surfaces announced last week as a key step in that process.
"We do know we have to do better, particular in mobile devices," Amy Hood, Microsoft's new chief financial officer, said in a telephone interview with Reuters. "That's a big reason we made the strategic organizational changes last week."