Forty-four years ago, Neil Armstrong took one small step for man. How appropriate Australia should commemorate that anniversary at Lord's with a giant leap for English cricket, as their hosts edge closer to retaining the Ashes urn.
After skittish Sunday last week came surrender Sunday. Australia, ground into the gristle by England on Saturday, might be worse than many thought they were. Victors by 347 runs, this was England's biggest margin win since 1928 and their second largest overall.
Cricket Australia's official hashtag for the series is "Return the Urn". Not only is it memorable, it could also be ageless. The social media slogan could be reused for the next decade if this is a peek into Australia's future. Their second Test defeat this summer was so brutal an exercise in humiliation, one might suggest England registered so insurmountable a lead in order to prolong the embarrassment.
The godfathers of Australian cricket have been littered around Lord's this week, but rather than inspire their successors they have galvanised their opponents. Allan Border snarling, Steve Waugh Sledging and Ricky Ponting scoring have contributed to England's resurrection and dominance versus their nemesis, and now they are meting out some payback.
Having suffered a mental disintegration with the ball for eight hours yesterday, it was tragicomic Australia should dismiss two batsmen in less than five overs this morning. Ryan Harris removed the unconvincing Jonathan Bairstow in the third over of the day before Joe Root, on 180, mistimed his lob over third man and was caught by Steven Smith.
Alastair Cook immediately declared to set Australia 583 to win and the comedic showing continued courtesy of Shane Watson.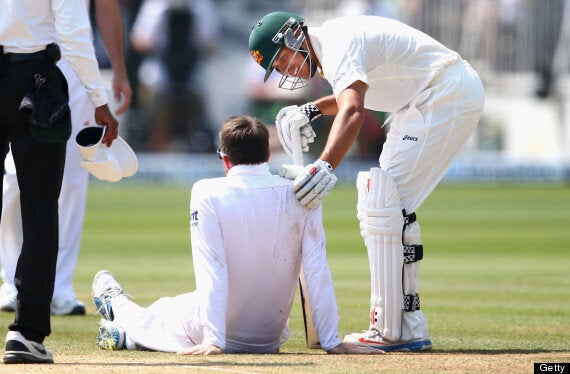 Usman Khawaja apologises to Graeme Swann after barging him over
With the all-rounder's risible decision to review his plumb lbw dismissal still fresh in the memory, it was appropriate he should return to the tourists' balcony the same way after James Anderson hit his pad. In total, it was the tenth time in 18 innings against England Watson had been given out lbw - and the first time since August 2009 he's not referred it.
Amusingly, hot spot showed a mark on his bat, which prompted much guffawing in the media centre, led by an ex-England spinner, alas it was the contact Watson made with his pad, rather than the ball.
Chris Rogers, who looked as bamboozled as the modern day Australian batsman is, was dismissed with ease shortly after Graeme Swann was brought into the attack. Phil Hughes lasted just one run as he opted for DRS, which showed he had been trapped leg before by Swann. Australia were 36 for three and it was feasible we might not enjoy a Lord's lunch.
However Usman Khawaja and Michael Clarke batted pugnaciously and frustrated England beyond the first interval at Lord's. The seamers struggled to illicit any life out of the pitch, unlike Swann.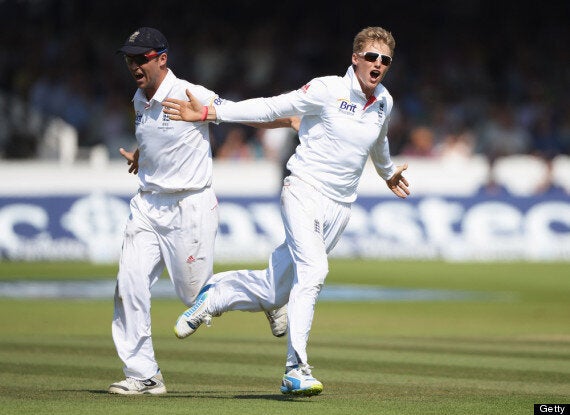 After Swann had bowled 17 overs, Cook turned to Joe Root as Khawaja and Clarke hit their fifties. Inevitably, the youngster claimed the breakthrough.
Clarke, in particular, will be furious with his dismissal. Root, bowling round the wicket, altered the angle, and the Australian skipper edged to leg slip as England's plan paid off handsomely to end the partnership on 98. Khawaja, who had flirted with the outside edge during his innings, kissed one to James Anderson during Root's next over.
The Australian avalanche continued, as Steven Smith lasted a solitary run when DRS defeated him thanks to hot spot confirming he had feathered an inside edge through to Prior off the economical Tim Bresnan. It was tea time, and of the rosy variety for England.
Ashton Agar, ebullient and fearless, partnered Brad Haddin at the crease and smacked Bresnan for four fours in a row to raise his dejected countrymen but was another victim to DRS. Given not out by umpire Marais Erasmus, England reviewed and the third umpire cited a "deflection" and "clear noise". Agar, bemused, sought clarification, like a death row inmate, before trudging off.
His wicket was not as bad as Haddin's, though. The wicket keeper, perhaps becoming impatient with the time it took for the executioner to arrive, did not offer a shot to Swann's off-spinner, which he allowed to bounce off his pad. Ironically, hawk-eye said it was missing his leg stump.
Root attempted to match the Australians for sheer hilarity when he dropped a dolly off Peter Siddle's, which agitated Broad. Cook also failed to gather when James Pattinson did likewise from Swann, as the day dragged into the final hour.
Fifty-eight minutes after Haddin perished, Anderson tore in and left Siddle's off stump lying prostrate for his second scalp of the day.
It took an additional hour and the final over of the day for the 10th wicket to fall. Australia, blocking stoutly, had a sense of humour, but Swann had the last laugh when he ended Pattinson's resistance on 35. The press box - including Aussie journalists - erupted. They would be spared a final day of pain.
But it will likely continue at Old Trafford, Chester-le-Street and the Oval, for these Aussies have about as much chance of regaining the urn as putting a man on the moon.