A 20-year-old woman has been charged with violent disorder after police came under attack from demonstrators at an English Defence League rally.
West Midlands Police said two men had also been charged with offences connected to yesterday's EDL rally and a counter-protest in Birmingham city centre.
Officers made a total of 20 arrests, mainly for public order breaches, after being pelted with cans, bottles, stones and other missiles during sporadic disorder.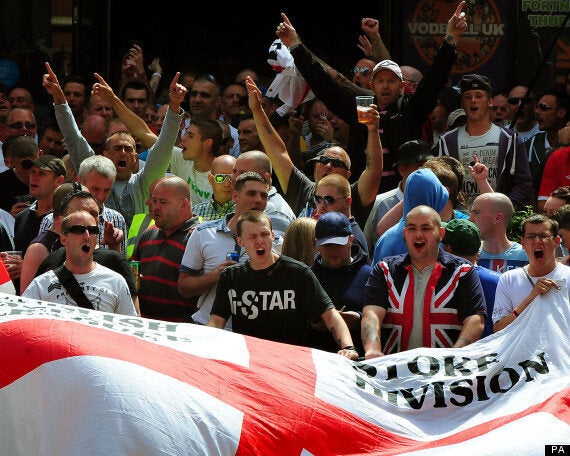 The EDL march on Saturday
A police spokesman said the 20-year-old woman would appear before Birmingham Magistrates' Court tomorrow.
It is not known if she is a member of the EDL or part of groups holding counter-demonstrations.
Meanwhile, two men aged 26 and 22 have been bailed to appear before Walsall Magistrates' Court on August 9 charged with possessing offensive weapons.
The spokesman added: "Police enquiries are ongoing to see whether any other offences were committed during the demonstrations.
"The wealth of exceptional quality CCTV within the area is likely to provide significant investigative opportunities to bring a large number of offenders to justice for what, at times, appeared to be serious offences.
"There were a total of three hospital admissions for minor injuries, one of which was a police officer who received head injuries after being hit by bricks.
"He was treated at hospital and later discharged."
Popular in the Community