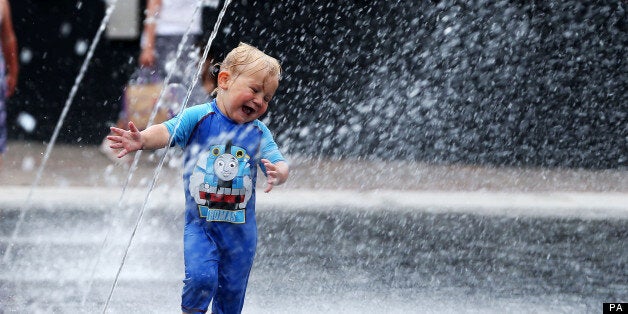 The glorious heatwave which has seen some of the hottest weather since 2006 will peak in the next couple of days then give way to humidity and thunderstorms.
Temperatures in the south-east could reach as high as 34C on Monday.
The Met Office has issued a 24-hour rain warning for Tuesday warning of thunderstorms.
Sudden rain mixed with dry ground after the heatwave have prompted flood warnings for the south of the country.
Only the north of the UK is expected to escape rain.
Sunday will see clear spells for much of the UK during the first part of the night, but low cloud and fog will move into north-eastern areas.
Through the early hours there will be an increased risk of thunderstorms in south-western England and Wales. Warm and humid.
Monday will see cloud in eastern areas but will quickly break up to leave spells of sunshine. Elsewhere, there will be plenty of sun too.
However, the risk of thunderstorms in Wales and south-west England will become more widespread across much of England, Northern Ireland and southern Scotland.
The thunderstorms will be very localised, but could lead to some flooding.
Feeling hot and muggy again.