 A Russian policeman planning to sue a British hedge fund boss through British courts, for alleging he was part of a conspiracy to torture and murder lawyer Sergei Magnitsky, could end up "driving a truck through British law".
The case, if a judge allows it to be heard, will be a true test for the long battle for libel reform in the UK.
On Wednesday, a judge will consider whether an hitherto unknown Russian official, Lieutenant Colonel Pavel Karpov, can use the British justice system and British lawyers to fight his case.
Russian officials have called financier Bill Browder a fraudster and a fantasist, and he is the subject of death threats, legal battles and diplomatic crises.
But, he says, it will not deter him from fighting for justice for a friend who he believes died at the hands of Russian authorities.
Browder alleges Russian officials falsely imprisoned, tortured and killed his lawyer, Sergei Magnitsky after both he and Browder blew the whistle on a massive scandal, involving criminal gangs colluding with Russian authorities to steal millions from Russian taxpayers.
"They are so desperately trying to cover it up, that they are willing to kill the key whistleblower, prosecute him posthumously, and pursue me in every possible way, including threatening my life," Browder told The Huffington Post UK.
"We weren't the main victims of the fraud, the Russian people were the victims. But the other victim was Sergei, who exposed the fraud. When he died, it changed my life. I couldn't live comfortably knowing he died because of me."
A British judge will hear arguments this week from both sides as to whether the case is an "abuse" of the British legal system, because it concerns a Russian litigant.
It comes at a difficult time for Russia, currently embroiled in the diplomatic mess that is the NSA whistleblower Edward Snowden, and his bid for asylum in Russia to save him from prosecution in the US.
The world is watching how Russia treats its own whistleblowers.
"I was initially sympathetic to the sentiments behind Snowden's campaign of exposing government's invasion of privacy," Browder said.
"But his narrative has started to fall apart the moment he threw in his lot with the Russians who tortured and killed Sergei Magnitsky for exposing government corruption in Russia."
The Russians, he alleges, aren't concerned about damaging their reputation of the country in their pursuit of him. "The Russian government officials involved, the only thing they care about is their money.
"These people are trying to protect their money by trying to discredit the whistleblowers. This is about personal wealth of government officials in Russia. It's as simple as that.
"It's a criminal gang running a sovereign nation, using any tool inside and outside their country to pursue anyone trying to shut down their crimes."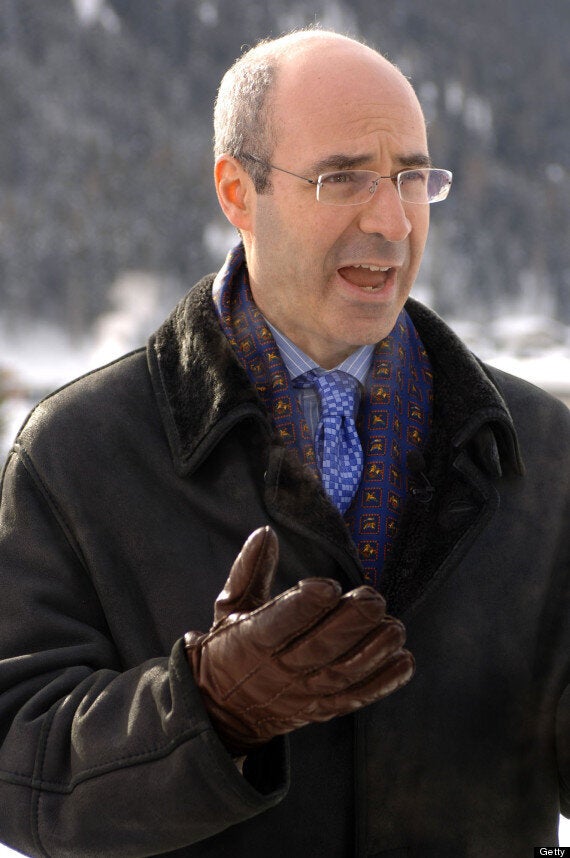 Hedge fund boss Bill Browder
Browder, who is US-born but a naturalised UK citizen, will learn this week if the Russian man he accuses of being part of the fraud, and the killing of Magnitsky, has the right to sue him in the UK for libel
British libel law campaigners have called for measures against foreign defendants being dragged to London; and also foreign claimants bringing cases against UK defendants, when the reputation was mainly harmed elsewhere.
However, only the first of these issues was dealt with in the newly signed Defamation Act 2013. There is nothing in the new law that would limit the kind of action brought against Browder.
"If this case were to go forward, this would be like driving a truck through libel reform law, this is the test case if there ever was one, " Browder said.
The man in question who is suing Browder is Lieutenant Colonel Pavel Karpov, a former police officer who was the target of serious allegations of corruption on Browder's website.
Browder alleged that Karpov was involved in the shady death of his young colleague and fellow whistleblower Magnitsky.
Browder invested millions in Russian companies via his Hermitage Capital Management. But amid allegations of improper conduct, Russian authorities blacklisted him, revoked his visa in 2005 and raided his offices.
Browder fled the country, but his friend and lawyer Sergei Magnitsky stayed, and the decision cost him his life. Magnitsky, who was posthumously convicted of fraud just weeks ago, is believed to have been tortured and denied medical aid, dying in police custody three years ago.
Doctors who found him described his body as lying in a pool of his own urine, his arms covered in bruises.
Browder, who was convicted of tax evasion in absentia alongside the dead Magnitsky, has accused Karpov and other Moscow officials, and of orchestrating his friend's death.
Amnesty International called the trial of Browder and Magnitsky, the first where a dead defendant had been tried, "a whole new chapter in Russia's worsening human rights record" and a "sinister attempt to deflect attention from those who committed the crimes he exposed".
Interpol has refused to include UK-based Browder on its international criminal search list after deciding that Russia's case against him is "of a predominantly political nature".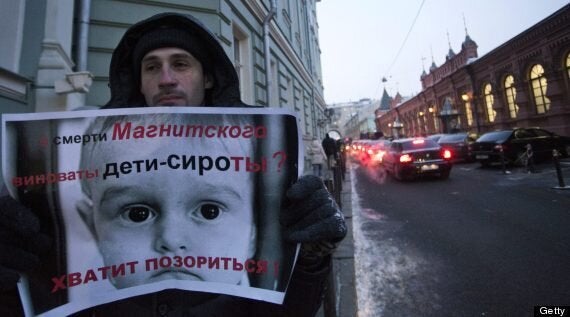 A protester holds a poster which reads: Are orphans guilty of Magnitsky's death ?' after a bill banning Americans from adopting Russian children, as retaliation for a US law that allows the seizure of assets from Russian officials implicated in Magnitsky's death
Browder also implicates Karpov and 60 other officials in an alleged fraud scandal where more than £140m was taken from Russian taxpayers, a fraud that he and Magnitsky discovered and publicised. The money was given to a criminal gang posing as subsidiaries of Hermitage, who told the Russian authorities they were owed a tax rebate of millions.
Since being driven from Russia, Browder has run the website 'Russian Untouchables', where he publishes his exposes of corruption in the country. In a video published in English and Russian, he alleges Karpov has become wealthy since the scam, enjoying foreign holidays and owning luxury cars.
Karpov has vocally denied any allegations of impropriety, and is being represented by top libel lawyers Olswang and lawyers Andrew Caldecott QC and Geraldine Proudler. Karpov claims he owned all his luxury goods before the scam took place in 2007.
The case has become a major international embarrassment for the Kremlin, embroiling the police, tax officials, the judiciary and the Interior Ministry in the scandal.
The dispute has caused international ripples, with governments responding tit-for-tat.
The US has approved a new law, the Magnitsky Act, that bans anyone allegedly implicated in Magnitsky's death from entering their territory, and Browder is lobbying UK and European governments to follow suit.
The Russians responded with a shock ban on US overseas adoptions of Russian children.
"I have campaigned for justice, hoping for prosecutions for torture, murder and fraud in Russia," Browder said.
"But we have been rebuffed at every turn, there is no possibility for justice there at all. Then we had to take the campaign to the West, to fight for sanctions in the West against the people involved in this crime."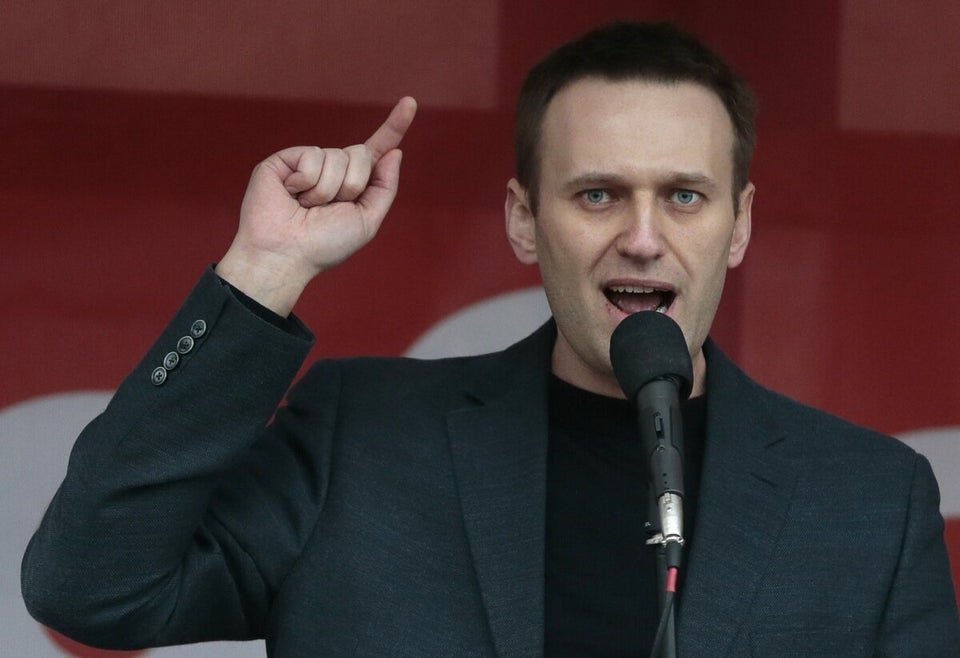 Human Rights After Putin
Related