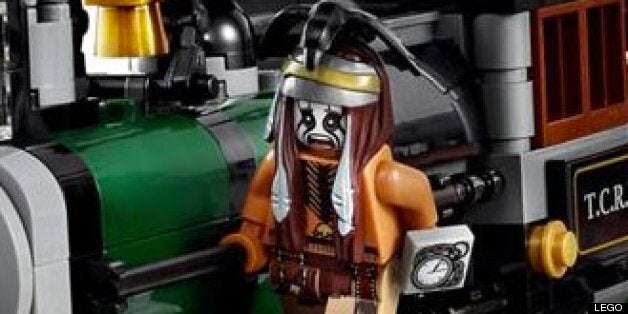 The new Lone Ranger movie (out August 8) might not have set the box office alight in the US. But if there's any justice, the film's now almost-obligatory Lego tie-in sets will prove to be big hits. Because these are the best sets we've seen in a long, long time. (And yes, that includes the Back To The Future car.)
But what they get right that other themes haven't of late, is that they're able to encompass the movie while also embracing the timeless, Western fantasy in which they're set.
The problem with Lego movie toys is that they're often based on such specific scenes they're almost useless out of context. Take the Superman sets. Perfectly well made and realised they might be. But when kids play Superman, they have the Man of Steel rescuing buses, fighting tons of villains and lifting trains into the sky. They don't have him - with the best will in the world - driving in a sports car.
So what do kids do when they play the Lone Ranger - or the now non-PC 'Cowboys and Indians'? They make up train robberies, fort battles, stagecoach escapes and town-centre showdowns.
And that's exactly what they get here. Perhaps that's down to Disney, who in 'Pirates of the Caribbean' style may well have made a movie comprising every standard trope of the Western genre (and maybe that's why it didn't work?). But whatever the reason, these kits are Lego Western in all but name, and they deserve to be around for a long, long time.
The Constitution Train Chase is perhaps the best of the two sets we tried. It's a really stunning kit. The train is realistic, solid, full of details and not too specific to the film. It comes with a jail, a coal cart, a Lego Gatling gun and a collapsible water tower - plus a Lone Ranger riding Silver, able to rear up on its hind legs. The track is long, the train is huge, the Minifigs are great - and not too movie-dull - and the result is a stone-cold classic train set.
The Silver Mine Shootout is also wonderful. It's full of details - a slide, a trap door, a runaway mine (through which it's possible with a bit of adjusting to fit the Constitution Train, incidentally) and a baddies hideaway with cooker, bottles and mining equipment. It's like the best of the old Lego castles, with passages connecting all the different areas, fun escape routes and set-piece 'explosions' (complete with TNT) and a good sense of scale and value.
We really can't recommend these sets enough. They'll be great for any kid - or adult fan - regardless of whether they like the Lone Ranger. And if they do happen to love the film too, they'll probably explode with happiness.
Popular in the Community