The Royal baby has been seen in public for the first time as the Duke and Duchess of Cambridge left hospital on Tuesday. Kate and William described their new son as 'very special'
The pair smiled and waved at the crowd as their baby, wrapped in white swaddling, could be seen moving his hands.
Both Kate and William spoke of the "very emotional" moment of a new baby, the Duchess adding that it was "a special time". The newest member of the Royal Family makes his world debut
Holding his son, William walked forward with his wife to answer a few questions from waiting journalists.
"He's got a good pair of lungs on him, that's for sure," he joked. "He's a big boy, he's quite heavy. We are still working on a name so we will have that as soon as we can."
He added: "It's the first time we have seen him really so we are having a proper chance to catch up."
The Duchess, who was wearing a bespoke cornflower blue crêpe de chine dress by British designer, Jenny Packham, said: "It's very emotional, it's such a special time. I think any parent will know what this feeling feels like."
William added: "I'll remind him of his tardiness when he's a bit older. I know how long you've all been standing here so hopefully the hospital and you guys can all go back to normal now and we can go and look after him."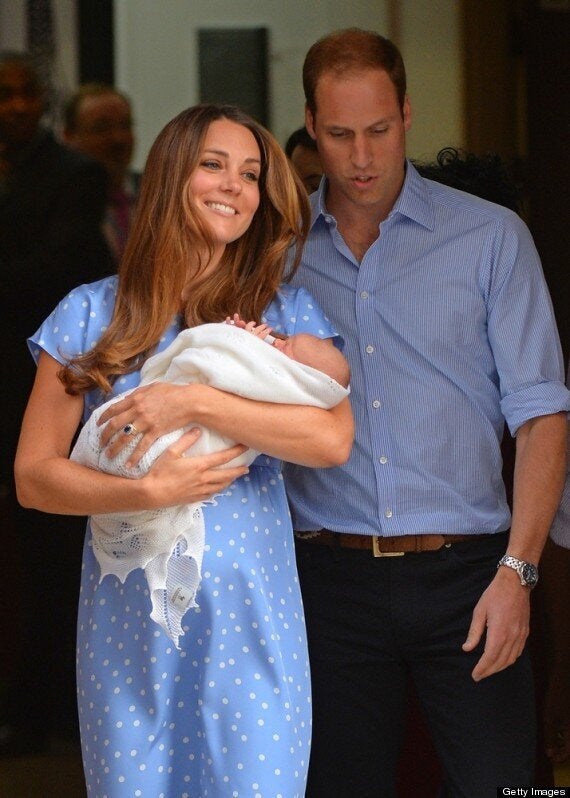 'He's a big one' said Prince William as the new family left St Mary's Hospital
William said that his new son had his wife's looks but Kate quickly replied: "No, no, I'm not sure about that."
Clearly in great spirits in spite of their long ordeal, the couple continued to answer questions with the Duchess revealing that her husband was already a hands on dad.
Asked about changing nappies she said: "He's done his first nappy already". The scene was reminiscent of Prince William's birth when he was presented to the world by his parents, the Prince and Princess of Wales, in 1982
After speaking to the press for a few minutes the three returned to the Lindo Wing before re-emerging with their son in a baby seat which William carefully fitted onto the backseat of a Range Rover beside his wife before driving his family home.
The new family had earlier enjoyed visits from the Prince of Wales and Camilla and also from Kate's parents, Carole and Michael Middleton.
As Prince Charles left the building, he was asked how his first grandchild was and replied: "Marvellous, thank you very much, absolutely wonderful - you wait and see, you'll see in a minute."
The proud grandfather and his wife had travelled from East Yorkshire, where they had carried out a string of engagements, to see the baby and his parents.
The Queen has said she is "thrilled" at the arrival of her great-grandson, according to a guest at a Buckingham Palace reception on Tuesday evening.
Louise Butt said the monarch told her the new baby was a "big boy" and that "the first born is very special".
The Queen made the remark during an event for representatives of companies who have been given the Queen's Award for Enterprise.
Mrs Butt, of Bath-based science marketing firm Select Science, said: "She (the Queen) said she is thrilled and she said he is a big boy.
"She said the first born is very special. We agreed."
After leaving the hospital earlier, a smiling Mrs Middleton, speaking about mother and baby, told the waiting media: "They are both doing really well, and we are so thrilled."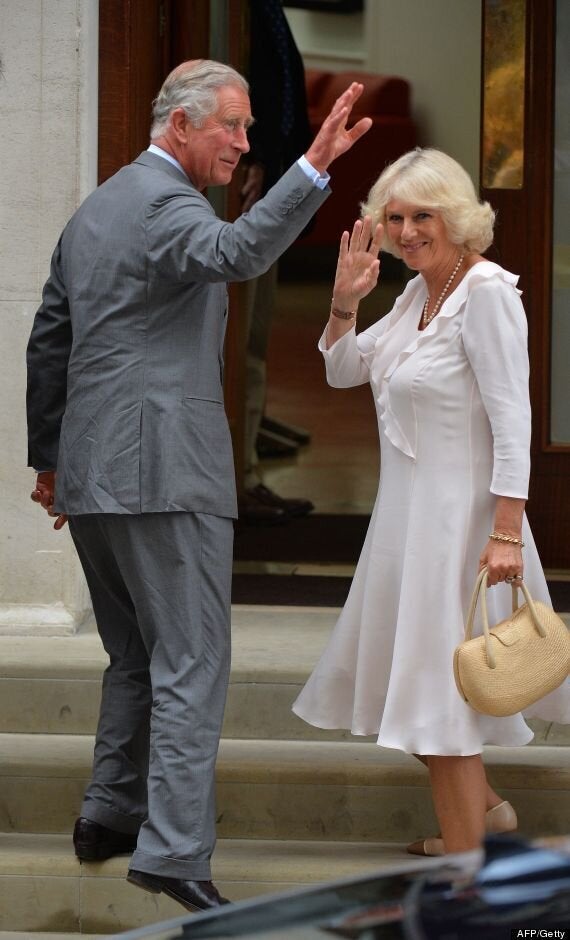 The Duke and Duchess of Cornwall arrive at St Mary's Hospital
When asked by the world's media, who are camped outside the Lindo Wing of St Mary's Hospital in London, how the proud parents were doing, she replied: "Fabulously."
Asked what the first cuddle with her grandson was like, Mrs Middleton, who had been ushered forward by her husband to speak to the press, said: "Amazing, It's all coming back."
After the grandparents' visits, Kensington Palace later issued a brief statement: "Her Royal Highness the Duchess of Cambridge will be discharged this evening from St Mary's Hospital, Paddington.
"The Duke and Duchess of Cambridge and their son will travel home to Kensington Palace.
"Their Royal Highnesses would like to reiterate their thanks to the hospital for the care and treatment they have all received."