Sir Bradley Wiggins and Chris Froome could "absolutely" line up alongside each other when the Tour de France starts in Yorkshire next year, according to Team Sky boss Sir Dave Brailsford.
It seemed the relationship between the two Tour winners had broken down completely during the build-up to this year's race, when Wiggins appeared to go back on a previous promise to support Froome's bid for glory in favour of targeting victory himself.
It became a moot point when Wiggins withdrew through injury but nevertheless it became hard to imagine them working together again.
Brailsford sees it differently.
"I'd love to do it," he said. "I'd absolutely love to."
While Brailsford does not pretend the two Tour winners enjoy a comfortable relationship, he said: "I don't spend a nanosecond worrying about whether they got on or not.
"People talk about having team unity and team harmony. I don't buy that at all. Most of the best teams I've been with, they're not harmonious environments.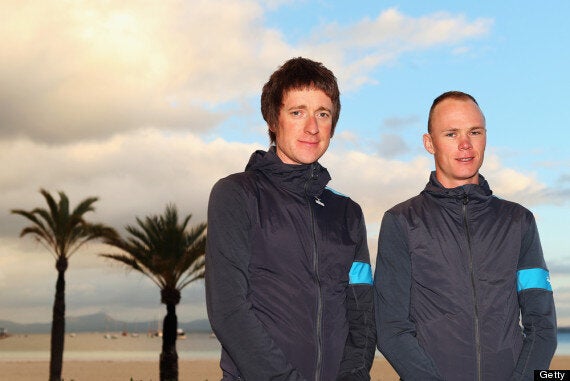 Wiggins and Froome have experienced an occasionally fraught relationship
"This is not a harmonious environment. This is a gritty environment where people are pushing really hard.
"What you need is goal harmony, and there's a big difference between the two."
After the glory of 2012, when he became the first Briton to win the Tour de France and then just weeks later took gold in the Olympic time trial, Wiggins has endured a frustrating 2013 which has left many wondering what is next for the 33-year-old.
He targeted the Giro d'Italia only to withdraw early in the race suffering from a chest infection, and a knee injury then hampered his recovery and ended his hopes of being ready for the Tour.
Since then, he has openly questioned his own future in the Grand Tours to leave uncertainty over his long-term goals.
While Wiggins seems to doubt whether he has the motivation to prepare himself for the gruelling test of the Grand Tours again, Brailsford wants to keep the door open.
"We'll see how the rest of the season goes," he said.
"You can't rule anything out. Once you start ruling things out, saying, 'No he can't do this, he can't do that'... We're not in the game of ruling things out, we're in the game of ruling things in."
Popular in the Community