Around two million Britons will head overseas this weekend as the school summer holiday getaway begins in earnest.
Spain and its islands, including Majorca and Tenerife, remain the number one destination for those seeking overseas sun. Many Brits will be heading overseas for two weeks in the sun
But the recent heatwave in the UK has led to a boost in domestic bookings, with holidaymakers flocking to the Channel Islands, Lake District and the traditional seaside resorts of Blackpool, Bournemouth and Brighton, said travel organisation Abta.
The Mediterranean destinations of Greece, Turkey and Tunisia have also sold well while Florida, Mexico and Cuba are popular spots for those on long-haul trips.
Airports in south east England are expecting a very busy weekend, with about 480,000 passengers likely to depart from Heathrow, 276,000 from Gatwick, 125,000 from Stansted and 70,000 from Luton.
More than 100,000 will be leaving from Scottish airports, with 50,000 from Glasgow alone, while 160,000 are due to depart from Manchester, 66,000 from Birmingham, 70,000 from Newcastle, 50,000 from Bristol and 30,000 from Leeds Bradford.
Other regional airports, ports and the Channel Tunnel will also be extremely busy over the weekend with hundreds of thousands leaving the country.
High-speed Channel Tunnel train company Eurostar is reporting an increase in passenger numbers on last year with 70,000 heading off to Paris and the south of France over the weekend.
Abta chief executive Mark Tanzer said: "This weekend sees the start of the main summer holiday getaway and it's one of the busiest of the year.
"Millions of holidaymakers will be heading off overseas with the Mediterranean countries attracting the lion's share of visitors.
"The recent amazing weather at home has also given a great boost to domestic tourism and many Abta members are reporting a surge in last-minute bookings for holidays throughout the UK. "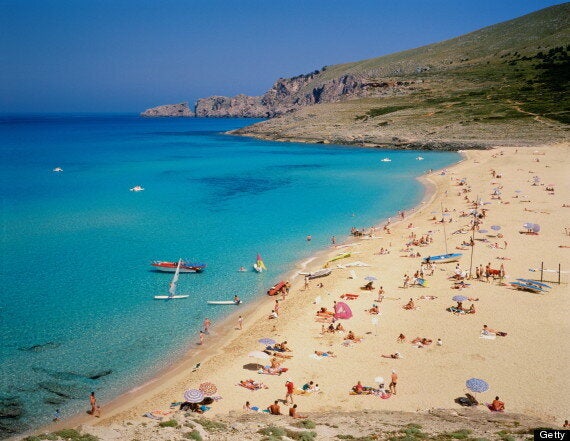 Spanish resorts such as Majorca still prove popular
Gatwick said about six million passengers would be travelling through the West Sussex airport between 19 July and 2 September.
For those leaving from Gatwick, destinations in Spain remain the most popular travel spots this holiday, with the southern resort of Malaga topping the list for a second year running.
Gatwick said new entries into the top 10 most-popular destinations included Dublin and Belfast.
The airport's busiest day for departures will be today (Friday) with about 72,000 people expected to fly out.
Meanwhile, a survey of 1,000 people by travel company Travel Counsellors showed that 55% of consumers look forward to going on holiday more than any other event in the year.
Separately, online travel agent Directline Holidays said package holiday bookings were up for summer 2013 as holidaymakers snapped up reduced price holidays, many with discounts of up to 50%.
It added that all-inclusive packages had seen the biggest increase over the last few weeks, with bookings now up 11% compared to summer 2012.
Related