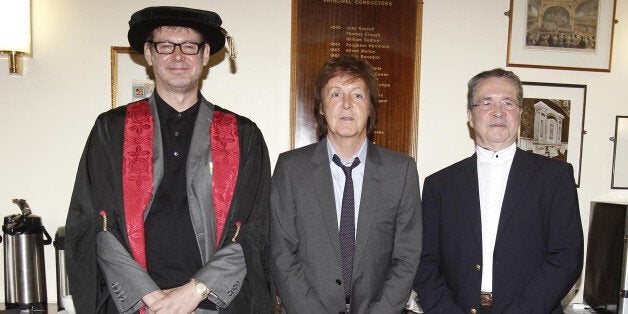 Sir Paul McCartney led graduation celebrations on Thursday at the "fame" school he set up in his home city - which included an honour for DJ and producer Mark Ronson.
Veteran US record label boss Seymour Stein - who famously gave Madonna her first deal - was presented, along with Ronson, with the Liverpool Institute for Performing Arts (Lipa) Companion award.
The pair were among six luminaries to be presented with the award by the former Beatle, who opened Lipa in 1995 after a long campaign.
Lipa awards its Companionships to figures who have made an outstanding achievement and practical contribution to students' learning.
Mark Featherstone-Witty, Lipa's founding principal and chief executive, said: "Despite the Government's enthusiasm - not - for the creative and performing arts, our annual graduate surveys have regularly shown that around 90% of respondents are in work, helped and inspired by our Companions and Honoured Friends.
"It's time that politicians recognised that they will, as years pass, be largely forgotten and that the creative and performing arts will not and will continue to define our time for those who come along after us."
Ronson is known for working with the late Amy Winehouse on her Back To Black album, as well as working on a number of records under his own name and with guest vocalists.
Ronson and Seymour - who signed Madonna to his Sire Records in 1982 - were joined by theatre design consultant Andy Hayles, Olivier Award-winning choreographer Stephen Mear and audio-industry magazine publisher and editor Zenon Schoepe.
Educator and theatre director Keith Johnstone was unable to attend the ceremony so his speech was shown on video.
Rowena Morgan, business development officer for the British Academy of Songwriters, Composers and Authors (Basca) became an Honoured Friend in recognition of her contribution to the development of Lipa's music masterclass programme.
More than 260 students from the UK and some 15 other countries, including India, Mexico, South Africa and Venezuela, graduated at the ceremony, having completed either foundation certificate or degree programmes.
Lipa is located in Sir Paul's old school, the Liverpool Institute for Boys, which underwent a multimillion-pound renovation to turn it into a state-of-the-art performing arts higher education institution.
It opened with the aim of providing the best teaching and learning for people who want to pursue a lasting career in the arts and entertainment industry, whether as performers or those who make performance possible.