Yes, this is Richard and Adam Johnson, finalists of this year's 'Britain's Got Talent', who ended up coming third in the competition, despite the unpredictable end to their performance.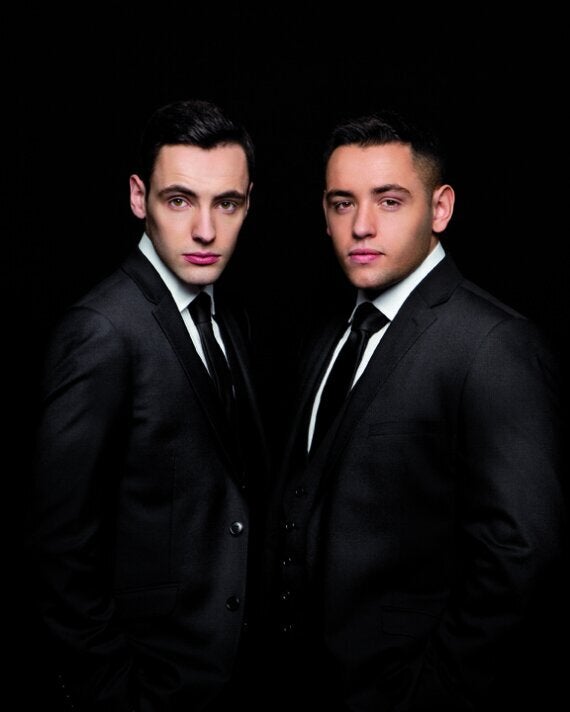 Richard & Adam have already cut their first album
And now they've cut their first track, a cover version of Frankie Goes To Hollywood's pop classic 'The Power of Love', which went to Number One in the charts way back in 1984.
Huffington Post UK is the exclusive host of this song - HEAR THEM IN ACTION ABOVE. As good as the original by Frankie? You decide.
Brothers Richard and Adam, 22 and 19 respectively, are from Holywell in Wales.
"We never had singing lessons, nothing like that, because we couldn't really afford it," says Richard and, shrugging Adam concurs. "So we just sat and watched YouTube, studying all the great singers – and then we came across Pavarotti teaching people how to sing – let's face it you probably couldn't get better lessons from anyone, right?"
They starting singing at the Birkenhead Operatic at which they excelled enough to be entered into a local talent competition,. They won and the offers came pouring in... and here they are with their debut album.
"We love all kinds of music, but classical is our favourite," says Richard. "If we can bring in a younger generation by covering some pop songs in the classical way, then we'd love to do that."
'Richard and Adam's debut album 'The Impossible' is out on Monday. And here's that moment again on 'Britain's Got Talent' below...