The fact that Kurt Cobain died 19 years ago did nothing to dissuade a Virginia Tech student from penning a letter to Nirvana's former label Sub Pop, asking the band to record a homecoming message.
Seemingly oblivious to Cobain's demise (and sex – she refers to him as a "her") the letter breathlessly adds it would be "great publicity" for the band.
The unnamed author, who identifies herself as the college's mascot and reveals her aspirations to be homecoming queen, also promises to include links to Nirvana's Twitter and Facebook accounts.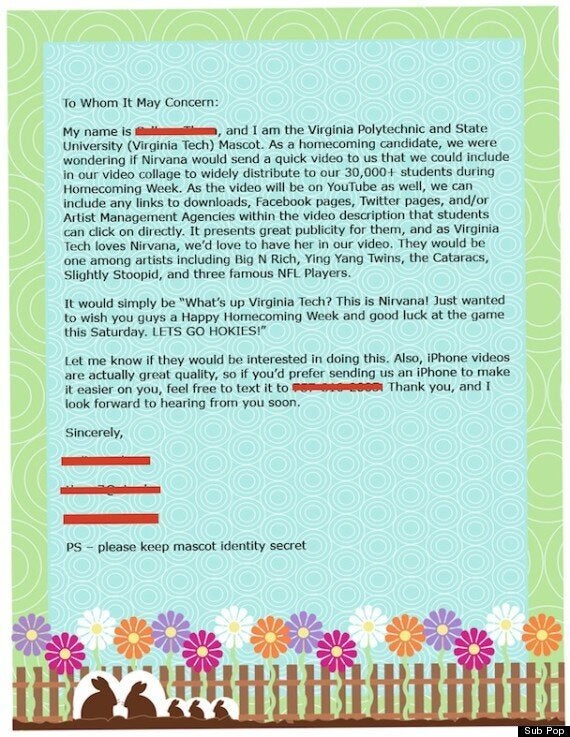 Kurt Cobain (centre) took his own life on April 5, 1994
She adds all Nirvana needs to do is film themselves delivering a short iPhone video message ("iPhone videos are actually great quality"), saying:
"What's up, Virginia Tech? This is Nirvana! Just wanted to wish you guys a Happy Homecoming Week and good luck at the game this Saturday. LETS [sic] GO HOKIES!"
For their part, Sub Pop have "dressed up and obliged", and did indeed supply an iPhone video – which you can watch below. (And yes that is Mudhoney's Mark Arm standing in for Cobain.)
This isn't the first time requests have been made of deceased music stars. In 2005, the BBC said it was "embarrassed" when a researcher asked for an interview with reggae legend Bob Marley for a forthcoming programme, unaware that he had been dead for 24 years.
The Corporation said the Bob Marley Foundation had been "extremely good humoured" about the mistake.
Read the text message Sub Pop sent to the student:
Here are some of our favorite Nirvana performances.
Popular in the Community