"I've derailed. What do I do? What am I supposed to do? I f***** up, I want to die."
"I had to go at 80km an hour, but I went at 190km," driver Francisco Jose Garzon is heard to say on the recorder, according to HuffPost Spain.
Garzon, who is under police guard in hospital, has since been formally detained and is expected to be questioned as a suspect for a crime linked to the cause of the accident.
An injured man, identified by Spanish newspapers El Pais and El Mundo as the train driver Francisco Jose Garzon, is helped by a policeman after a train crashed
In a second call to Renfe after the accident, the driver explained that he was trapped in the train.
"We are human, we are human," he is reported to have said. "I hope there are no dead because they would fall on my conscience."
Investigators are looking into possible failings by the driver after the Madrid to Ferrol service derailed on Wednesday night as it approached the city of Santiago de Compostela.
A second probe launched into the catastrophe will look at the train's in-built speed regulation systems.
One Briton has been confirmed by the Foreign Office to be among 168 injured passengers, while the regional government in Galicia said it had so far only been able to confirm the identities of 67 bodies.
The authorities were still working to identify the other 13.
DNA tests are expected to be carried out on those with catastrophic injuries to identify them, with results available in the coming days.
A US woman killed in the wreck has been named by Catholic Church officials in America as Ana Maria Cordoba, an employee of a diocese near Washington DC, the Associated Press reported.
Ms Cordoba's husband and daughter were injured in the disaster as the family travelled to visit her son who had completed a pilgrimage to Santiago de Compostela, the Catholic News Service reported.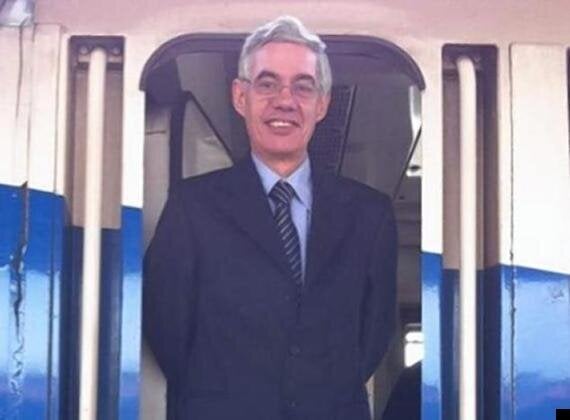 The train's driver, named in local reports as Francisco Jose Garzon Amo
The 52-year-old, who together with a second driver survived the crash and is being treated in hospital for minor injuries, allegedly posted a picture of a train speedometer at 200kph (124mph). His Facebook page has since been blocked.
"What a blast it would be to go parallel with the Guardia Civil (Spanish police) and go past them triggering the radar. Haha what a fine for Renfe (Spanish rail operator) haha," he allegedly wrote.
Garzon Amo is a 30-year employee of Renfe who became an assistant driver in 2000 and a fully qualified driver in 2003.
He is believed to have taken control of the train from a second driver about 65 miles south of Santiago de Compostela.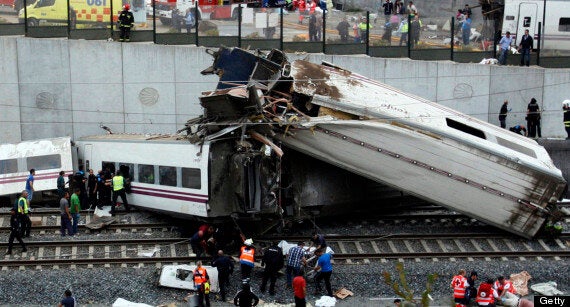 Rescue workers treat survivors at the scene
The full horror of the disaster was revealed in harrowing video footage of the moment the high-speed train derailed.
Posted on YouTube, the security camera footage shows the middle carriages of the Class 730 train smash into a wall before the engine crashes on to its side.
The derailment left a scene of devastation, with toppled and smashed carriages lying alongside the track, bodies being laid out beside the line, and bloodied survivors being carried to safety.
The official figure was given as 78 dead, but it is thought that as many as 250 could have been killed.
There was another serious accident in Spain in 1972 when a Madrid to Cadiz express collided head-on with a local train on the outskirts of Seville. A total of 77 people died, with more than 100 injured.
The latest incident comes less than two weeks after six people were killed and scores injured in a train crash just south of Paris.
WARNING: Graphic images follow