The pet food giant that manufactures Pedigree dog food has become embroiled in a bear-baiting scandal after it emerged trophies emblazoned with the company's logo were awarded to Ukrainian owners of the dogs who won horrifying fights with bears.
The Austrian charity Four Paws posted the video on its website, showing a panicking bear tied to a tree as snarling dogs sink their jaws into it. As the bear attempts to flee, men drive the bear back towards the dogs.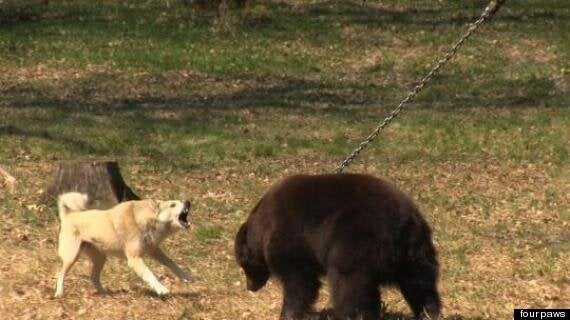 The video shows a dog attacking a chained-up bear
Bears are not usually killed in bear-baiting, but left with deep wounds to their throats and limbs, and huge blood loss.
Before the fight, bears have the claws pulled out, and are tied on a 30-foot-long rope, meaning they have little defence against the dogs.
Four Paws estimates there to be between 15 and 20 baiting bears in Ukraine, living in tiny cages and given insufficient food and water, to make them weaker opponents for the dogs. This type of contest with brown bears is illegal in the Ukraine.
In the video, the Royal Canin logo is seen on two trophies, one for the owner of two dogs attacking the beat, another for the owner of a single dog versus the bear.
Royal Canin branding is also seen on a tablecloth, banner and tape, in the video that was filmed in Vinnytsia in April this year.
Dr Amir Khalil, Four Paws project leader, said: "Royal Canin says it places animals' wellbeing at the centre of its philosophy.
"By sponsoring appalling bear-baiting, it is reducing wild animals like the bear to the rank of second-class animals."
Herve Marc, global corporate affairs director for Royal Canin, originally told the newspaper the sponsorship was inadvertent, and intended for a dog show.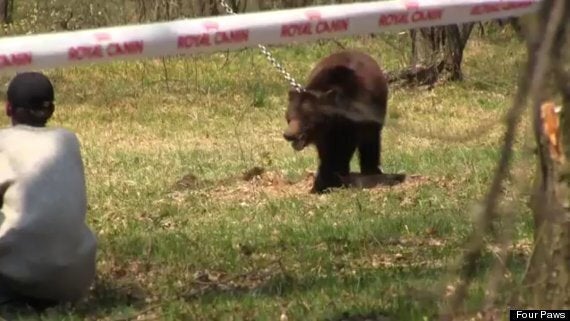 The Royal Canin logo is seen on the safety barrier
But the company later said in a statement: "Royal Canin unreservedly apologises for sponsoring the event where the bear baiting took place. As a company with knowledge and respect for animals at our heart, we condemn any activities that harm or endanger animals.
"Royal Canin has been absolutely horrified to see these images linked with our brand. The sponsorship of this event is not consistent with Royal Canin's animal welfare policy, our philosophy of Pet First or our vision.
"This has been a humbling experience for Royal Canin. We again thank Four Paws International for bringing this practice to our attention and in doing so reminding us that diligence in ensuring our policy is followed is paramount.
"We look forward to working with all our partners to prevent animal cruelty through policy change and improved animal welfare practices. Specifically, Royal Canin will work to improve the welfare of the Ukrainian bears and dogs involved in bear-baiting."
The company said it would meet with Four Paws next week and hopes to build a bear refuge in Ukraine.