In what could be seen as a dig at his "intellectual" predecessor, Pope Francis has called for a simpler Church based on core values of love and humility, in a speech to hundreds of thousands of devotees on Rio's Copacabana beach.
The new Pope, Latin America's first pontiff, told Catholics gathered for the final evening of World Youth Day: "At times we lose people because they don't understand what we are saying, because we have forgotten the language of simplicity and import an intellectualism which is foreign to our people.
"Without the grammar of simplicity, the church loses the very conditions which make it possible to fish for God in the deep waters of his mystery."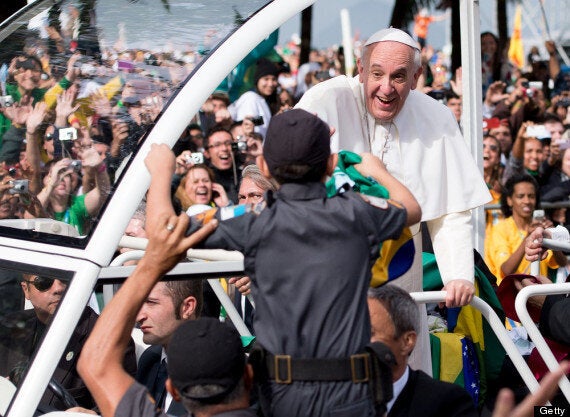 Pope Francis waves from the Popemobile as he arrives to celebrate Mass on Copacabana Beach during World Youth Day
Francis headed into the final hours of his trip on a wave of adoration across the country, the back seat of his famous 'Popemobile' piled high with football shirts, flags and flowers tossed to him by adoring pilgrims lining the beachfront.
During his visit to Brazil, the first international tour of his leadership, Francis earlier this weekend took bishops to task over the mass exodus of youngsters from the Catholic Church.
Speaking to Brazil's bishops, he said ordinary Catholics didn't understand such lofty ideas, the intellectualism which characterised the tenure of his precedecessor Pope Benedict XVI, and needed to hear the simpler message of love, forgiveness and mercy at the core of the Catholic faith, according to the Associated Press.
"Perhaps the church appeared too weak, perhaps too distant from their needs, perhaps too poor to respond to their concerns, perhaps too cold, perhaps too caught up with itself, perhaps a prisoner of its own rigid formulas," he told the 300 assembled bishops at the Rio Archbishop's residence.
"Perhaps the world seems to have made the church a relic of the past, unfit for new questions. Perhaps the church could speak to people in their infancy but not to those come of age."
And at an address to young Argentinian pilgrims on Thursday, he called for them to shake up their dioceses, even at the expense of confrontation with their bishops and priests.
"We cannot keep ourselves shut up in parishes, in our communities when so many people are waiting for the Gospel.
"It's not enough simply to open the door in welcome, but we must go out through that door to seek and meet the people."