With the exception of this paragraph, this is a Gareth Bale-free zone. Should you want to read about the slew of contradictory reports regarding the Welshman, or are a sadomasochistic Spurs fan, head this way.
The Sun say Bayern are willing to part with £40 million for Rafael Benítez's greatest success at Chelsea (yes, he trumps a Europa League win).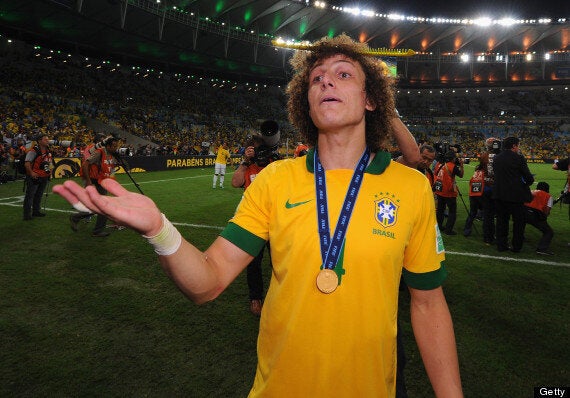 David Luíz excelled under Rafael Benítez
It's all déjà vu for Pep Guardiola at Bayern. His squad is brimming with awesome attacking players but there remain concerns about the centre of defence, a la Barcelona. The European champions were battered by Borussia Dortmund in the German Supercup on Saturday night, and are in need of an outstanding centre-back to partner Danté.
The Telegraph add Bayern made a £34.5m bid at the weekend.
Chelsea will make a second offer for Wayne Rooney after Rio Ferdinand's testimonial against Sevilla on 9 August. Sounds illogical, doesn't it? There's actually some method to this approach, whereby the Blues are hopeful an unwelcome reception for Rooney - which is probable - might persuade United to sell the striker. Still a red, but for how much longer?
Father talk can be quite misleading when it comes to transfers, and Bernard's old man has said his son will not join Arsenal.
Why? Well because the Brazilian's international teammate Hulk has told him his development will thrive elsewhere, according to the Express. Moral Hulk plays in Russia, lest we forget.
Liverpool have identified Benfica defender Lorenzo Melgarejo as possible cover for José Enrique, claim the Mirror.
And Fulham are set to move for Aston Villa's forgotten man Darren Bent after they were informed striker Pablo Osvaldo intends to stay at Roma, write the Times.