The 58-year-old actor who said he's "unemployed right now" wore a bathrobe for the chat with Kate Garraway for 'Daybreak'.
But, although he looked and sounded liked he'd just got out of bed, he was wearing what seemed like a shirt underneath his robe.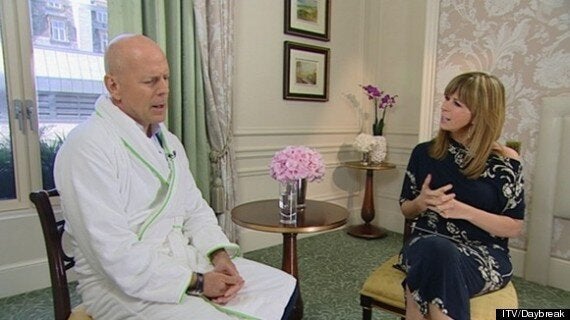 In the hotel room meeting, he gushed about his 5-month baby daughter Mabel, his child with 35-year-old model Emma Hemming, saying: "It is a woman, she's only 15 and a half months old but she is my kryptonite."
The Hollywood icon also has three other daughters, Rumer Willis, 24, Scout LaRue Willis, 22, and Tallulah Belle Willis, 19, with his ex-wife Demi Moore and he insists he is proud of all his girls.
He added: "I'm just very proud of all of my daughters. It's all good, I haven't found a time yet that is bad. I get to learn a lot more about women than most men do because it's just me, there's me and 20 women around me."
And he revealed his home life is seemingly a world away from the tough-man image he is famed for in his action movies such as 'Die Hard', as he is bossed around by his daughters and wife.
He said: "You would think that sometimes they'd let me be in charge but just briefly, just for mere moments really."
This led Edwards to call it "the interview I'll never forget".
And Willis previously made presenters Matt Baker and Alex Jones squirm on 'The One Show' earlier this year by refusing to give clear answers.