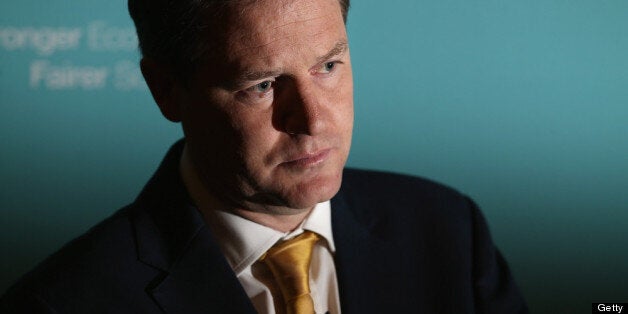 Nick Clegg was forced to admit that British banks were not pursuing racist lending policies after a government report cleared them of any discrimination.
This report's conclusions come nearly two years after the LibDem leader used a major speech to warn of "barriers preventing black and minority groups from accesing loans" and launch the inquiry into bank lending policies.
'Why is it that members of some of our ethnic communities want to start their own businesses, but their success doesn't match their ambitions?" he said at the Scarman memorial lecture in November 2011.
'Past evidence shows that firms owned by individuals of black African origin have been four times more likely than so-called "white firms" to be denied loans outright.
'And that Bangladeshi, Pakistani, black Caribbean and black African-owned businesses have been subject to higher interest rates than White and Indian-owned enterprises.'
However, the government report, Ethnic Minority Businesses and Access To Finance, concluded: "There is no evidence to indicate that disparities are due to racial discrimination per se, but variances could be accounted for by other business characteristics.'
The report said that credit checks, which help lenders decide on an applicant's worthiness for financial support, do not include information about ethnicity.
In response to the report, Nick Clegg's welcomed its conclusions but insisted that there remained "more to be done" to ensure entrepreneurs from ethnic minorities could get backing.
"I welcome the fact that the report finds no evidence of racial discrimination, and I am pleased to see the banking industry has agreed to a range of measures to address the various factors that have prevented some entrepreneurs from getting loans.
"This report is a good start, and a valuable statement of intent, but there is much more to be done to make sure that entrepreneurs from ethnic minorities have a fair chance to achieve their goals."
British Bankers Association chief executive Anthony Browne said: "We have been working closely with the Government on this report and are pleased that it concludes that ethnic minority businesses are not discriminated against by finance providers in the UK.